How does Forage Finishing Affect Product Quality?
In Canada, most cattle are raised on forages then finished on a high grain diet at under 20 months of age. Grain-finishing is typical because grains like barley and corn generally contain more energy than forages, and Canada's relatively short growing season means that forage-finished cattle require stored forage in addition to pasture.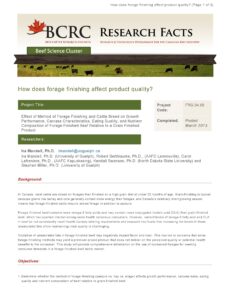 Forage-finished beef contains more omega-3 fatty acids and may contain more conjugated linoleic acid (CLA) than grain-finished beef, which has sparked interest among some health conscious consumers. However, current levels of omega-3 fatty acid and CLA in beef do not consistently meet Health Canada labeling requirements and research has found that increasing the levels of these unsaturated fats while maintaining meat quality is challenging.
Oxidation of unsaturated fats in forage-finished beef may negatively impact flavor and odor. This has led to concerns that some forage-finishing methods may yield a premium-priced product that does not deliver on the perceived quality or potential health benefits to the consumer.
A recently-completed research project funded by the National Check-off and Canada's Beef Science Cluster studied the affect of forage-finishing methods on growth performance, carcass traits, eating quality and nutrient composition of beef relative to grain-finished beef. The study also evaluated breed differences in the aforementioned traits and examined how fatty acid composition of forages affected eating quality and nutrient composition of beef when the method of forage finishing was varied.
The study found that growth performance, feed efficiency and quality grades were lower with forage-finished cattle. Omega-3 was higher in forage-finished than corn-finished beef, but levels were too low to attain a Health Canada label claim for omega-3 content.
To learn more about this research, view the fact sheet (web version).
Click here to subscribe to the BCRC Blog and receive email notifications when new content is posted.
The sharing or reprinting of BCRC Blog articles is welcome and encouraged. Please provide acknowledgement to the Beef Cattle Research Council and list the website address, www.BeefResearch.ca.
We welcome your questions, comments and suggestions. Contact us directly at info@beefresearch.ca or generate public discussion by posting your thoughts below.
Stay connected by following us on Twitter @BeefResearch, liking us on Facebook, and subscribing to our YouTube Channel.