Developing Efficient, Multi-Pathogen Tests for Common Cattle Diseases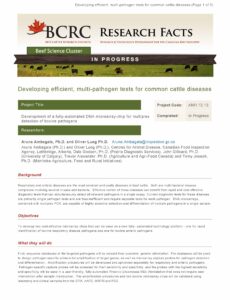 Respiratory and enteric diseases are the most common and costly diseases in beef cattle. Both of these types of diseases are multi-factorial disease complexes meaning they involve several viruses and bacteria.Currently these diseases are diagnosed using single pathogen tests making the process very inefficient because each pathogen involved requires a separate test. Effective control of these diseases can benefit from a rapid and cost effective diagnostic test where all relevant pathogens can be tested for in a single assay.
Research currently underway and funded by the National Check-off and Canada's Beef Science Cluster is working to develop two user-friendly automated assays for simultaneous detection of pathogens relevant to both respiratory and enteric diseases. This will significantly reduce cost, labour, and time requires for multi-pathogen detection. These assays will facilitate nation-wide surveys of disease prevalence and enhance biosecurity in the cattle industry.
To learn more about this research, see the BCRC fact sheet.
Click here to subscribe to the BCRC Blog and receive email notifications when new content is posted.
The sharing or reprinting of BCRC Blog articles is welcome and encouraged. Please provide acknowledgement to the Beef Cattle Research Council, list the website address, www.BeefResearch.ca, and let us know you chose to share the article by emailing us at info@beefresearch.ca.

We welcome your questions, comments and suggestions. Contact us directly or generate public discussion by posting your thoughts below.