Deciding What Research and Innovation to Fund
This article written by Dr. Reynold Bergen, BCRC Science Director, originally appeared in the February 2017 issue of Canadian Cattlemen magazine and is reprinted on the BCRC Blog with permission of the publisher.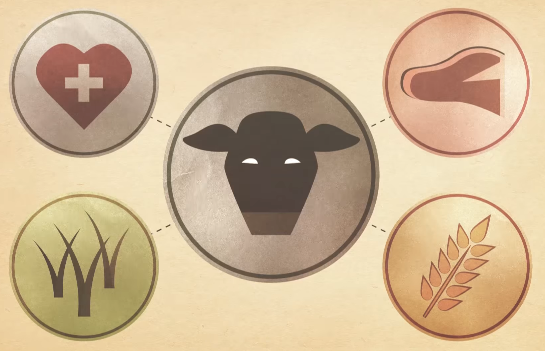 This column usually features Beef Cattle Research Council (BCRC) projects supported by Canada's national check-off, mainly through Canada's Beef Science Cluster. The current Beef Cluster involves the BCRC, Agriculture and Agri-Food Canada, Alberta Beef Producers, the Alberta Cattle Feeders Association, Manitoba Beef Producers, Beef Farmers of Ontario, the Quebec Beef Producers Federation, DuPont Pioneer, the Grey Wooded Forage Association, and provincial government funds from Alberta, Saskatchewan and Ontario. By pooling resources and coordinating funding decisions, funders can avoid duplication and increase the odds that more good projects will go ahead. The Beef Cluster allows Canada's beef industry to support much more and better research than we could in the past with limited national check-off dollars alone. The BCRC is now deciding which new projects to fund through the next Beef Cluster (2018-2023), so this month I explain how the BCRC decides what research to fund.
The first step is to decide what questions the beef industry needs researchers to tackle. This started with our online beef research survey in Spring 2016, where we asked participants to rate various research topics as extremely, very, moderately, slightly or not important. Over half of the 500 survey responses came from producers across Canada. We also survey other funders on an ongoing basis to track the forage, cattle and beef research they are funding. We asked those funders whether recently-completed projects solved the target problem, or whether more work is needed.
We presented this information to over 100 producers, researchers and industry experts at two national workshops hosted by the BCRC in 2016. Workshop participants went on to identify specific research targets in eight priority areas: beef quality, food safety, animal health and welfare, antimicrobial resistance, forage and grassland productivity, feed efficiency, environmental sustainability and technology transfer. The targets identified in these workshops were reviewed and refined through additional consultation with other experts, and ultimately approved by the 12 producers on the BCRC.
The next step is to find project ideas to achieve these research targets. We start by asking researchers to submit a "letter of intent" (LOI), which is a brief summary of what they'd like to research, how their idea is aligned with our research targets, and a rough budget. Each LOI is sent to the BCRC producer members, and is also reviewed by BCRC staff and independent specialists. The BCRC members will meet in early February to discuss each LOI, consider the specialist and staff perspectives and recommendations, and decide which LOI's to pursue in more detail. At least half of the LOI's usually drop out of the running at this stage.
Researchers who submitted successful LOI's are then invited to submit a full proposal containing a much more comprehensive and detailed research plan, timeline and budget. Sometimes we'll have similar LOI's from different researchers. When that happens we'll often ask the different teams to collaborate and submit a joint proposal. We send each proposal to two other researchers who are currently active in that field of research, usually elsewhere in North America. Each 'peer reviewer' anonymously scrutinizes the proposal to ensure that the research being proposed is new, properly designed, scientifically sound, uses appropriate and current techniques and analyses, and that the research team has the skills and track record to do the work properly. Each full proposal and its two peer reviews are sent to the BCRC producer members, and they will meet again in June 2017 to discuss the proposals and peer reviews, and decide which ones to fund. Again, the BCRC's independent specialists and staff will help summarize and explain the highly technical proposals and peer reviews, and make suggestions or recommendations pertaining to the science aspects and alignment with industry research targets and strategic goals.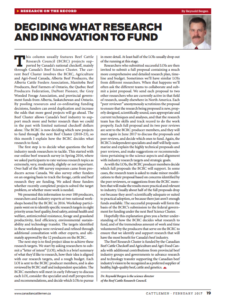 As with the LOI's, the BCRC producer members decide which full proposals the BCRC will support. In some cases, the research team is asked to make minor modifications to their proposal based on concerns identified by the peer reviewers, or suggestions from the BCRC members that will make the results more practical and relevant to industry. Usually about half of the full proposals drop out because they aren't scientifically adequate or suited to practical adoption, or because there just aren't enough funds available. The successful proposals will form the basis of the BCRC's submission to the federal government for funding under the next Beef Science Cluster.
Hopefully this explanation gives you with a better understanding of how the BCRC decides what research to fund, and the tremendous amount of work and time volunteered by the producers that serve on the BCRC to ensure that we identify and support research that will have the most benefit for Canada's beef industry.
Click here to subscribe to the BCRC Blog and receive email notifications when new content is posted.
The sharing or reprinting of BCRC Blog articles is typically welcome and encouraged, however this article requires permission of the original publisher.

We welcome your questions, comments and suggestions. Contact us directly or generate public discussion by posting your thoughts below.