Cover crops are a balance between reward and risk
Cover crops, also referred to as polycrops or cocktail crops, are receiving a lot of media hype for their potential for grazing and claims related to reduced inputs and improved soil health. Jillian Bainard, PhD, has been studying cover crop parameters like productivity, soil health, grazing nutrition, and weed control, through her research at Agriculture and Agri-Food Canada in Swift Current, SK. "A lot of people are trying cover crops so we want to understand from a research perspective what's happening, and whether we can pinpoint some of these benefits that have been suggested," Bainard explained during a recent webinar presentation.
Cover crops can address many problems, however they require thought and planning to optimize their potential.
Producers often look to cover crops to improve productivity. Bainard's research demonstrated that some cover crop mixes had greater production compared to single-species crops (ie. monocultures) even under stressful conditions. Different functional groups, such as cool-season grasses, warm-season grasses, legumes, or brassicas, also had a positive effect on production; as the number of groups in a mix increased, production did as well. Bainard did caution that extreme moisture fluctuations will impact plant growth accordingly and that real-world field variables may reduce productivity. For example, a cover crop mix may yield well on lowland areas yet perform poorly on uplands within the same field. "Not all mixtures will perform the same, and success will depend a lot on how well each crop does in a specific soil and environment," Bainard added.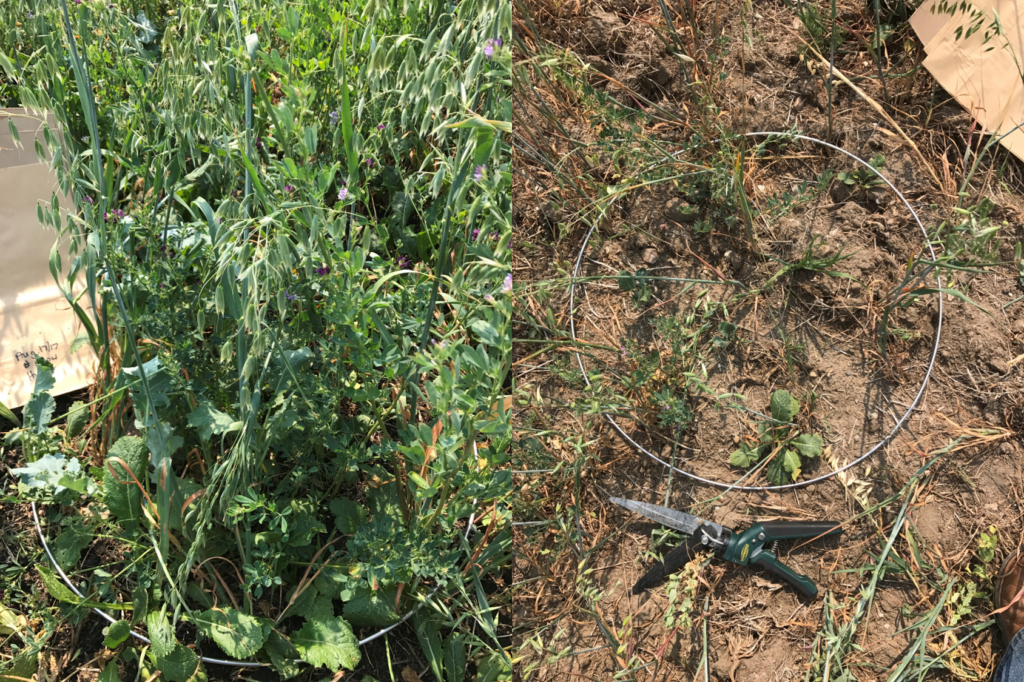 The nutritional aspects of cover crops depend largely on what is included in the mix. Many polycrops improve or at least maintain forage quality when compared to monocultures. Bainard found that some mixes had higher protein and lower neutral detergent fibre (NDF), both of which are beneficial to grazing cattle. In general, cover crop mixes also had increased levels of micronutrients such as copper, calcium, iron, nitrogen, phosphorus and sulfur, however feed testing is recommended to make sure the nutrients are present in the right balance. Mixes that contain a lot of Brassica species can potentially have toxic levels of nitrates and sulfates, posing a risk to cattle.
Weed control is another documented benefit of cover crops. Species such as forage radish, turnip, barley, and triticale especially demonstrated strong weed suppression at the Swift Current site. Staying on top of weed control can be a risk of seeding polycrops however, particularly if the crop is performing poorly, if moisture is limiting, or the optimum window for establishment was missed. "Your ability to select a herbicide or other form of control is going to be really difficult," explained Bainard, because mixes usually contain broad-leaved and grassy species.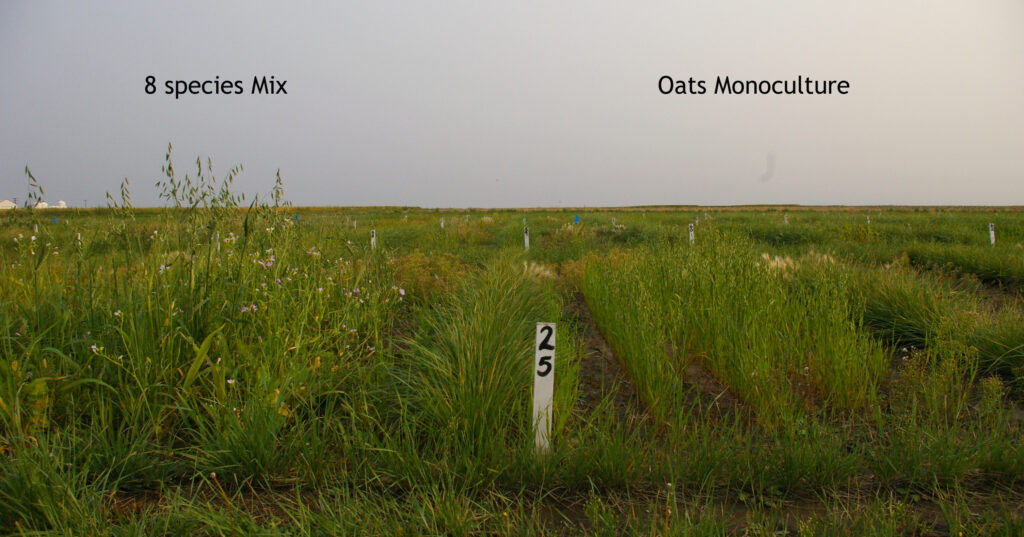 Many producers report on-farm improvements in soil health and appearance, however this has been hard to quantify in research because soil properties change over a very long time. While significant benefits have yet to be documented, some cover crop mixtures have shown slight increases in soil aggregation, which can lead to improved moisture retention. When it comes to inputs, Bainard cautions producers that lower input use may be a valuable goal, however cover crop mixes are unlikely to maintain fertility in a zero-input situation. More work is being done to determine how cover crops perform at lower input rates.
Research and reality are proving that cover crops have many rewards but carry some risks as well. With careful planning and management, additional research, and a network of knowledgeable people willing to share their experiences, cover crops and grazing will continue to integrate and innovate.
learn more
Click here to subscribe to the BCRC Blog and receive email notifications when new content is posted.
The sharing or reprinting of BCRC Blog articles is welcome and encouraged. Please provide acknowledgement to the Beef Cattle Research Council, list the website address, www.BeefResearch.ca, and let us know you chose to share the article by emailing us at info@beefresearch.ca.

We welcome your questions, comments and suggestions. Contact us directly or generate public discussion by posting your thoughts below.