Can Composting Destroy BSE Prions?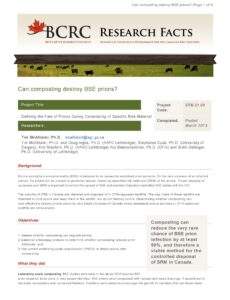 Bovine spongiform encephalopathy (BSE) is believed to be caused by misfolded prion proteins. On the rare occasion of an infected animal, the prions will be present in particular tissues, known as specified risk materials (SRM), of the animal. Proper disposal of carcasses and SRM is important to control the spread of BSE and maintain Canada's controlled BSE status with the OIE.
A recently-completed research project, funded by the National Check-off and Canada's Beef Science Cluster, worked to determine whether composting can cost-effectively destroy prions. This could be very helpful in areas of Canada where deadstock pickup services or CFIA-approved landfills are not available. The research found that composting can reduce the very rare chance of BSE infection by atleast 90%, and therefore is a viable method for the controlled disposal of SRM in Canada.
To learn more about this research, view the fact sheet.
The sharing or reprinting of BCRC Blog articles is welcome and encouraged. Please provide acknowledgement to the Beef Cattle Research Council and list the website address, www.BeefResearch.ca.
We welcome your questions, comments and suggestions. Contact us directly at info@beefresearch.ca or generate public discussion by posting your thoughts below.
Stay connected by following us on Twitter @BeefResearch, liking us on Facebook, and subscribing to our YouTube Channel.
Click here to subscribe to the BCRC Blog and receive email notifications when new content is posted.