Bovine Respiratory Disease from the Farm to the Feedlot
This article written by Dr. Reynold Bergen, BCRC Science Director, originally appeared in the September 2017 issue of Canadian Cattlemen magazine and is reprinted on the BCRC Blog with permission of the publisher.
Weed seeds and invasive species may be present even in well-managed pastures and rangelands, but it is hard for them to germinate, establish and spread in healthy, competitive forage stands. Stresses like severe drought, overgrazing, heavy traffic or excavation can weaken forage stands and create opportunities for unwanted plants to take root.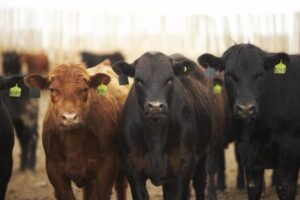 Researchers are now studying whether similar principles may apply to animal health and disease processes. For example, calves that were perfectly healthy on the farm can face a serious risk of bovine respiratory disease (BRD) in the feedlot after experiencing the stresses of weaning, commingling, transportation and ration changes. Dr. Trevor Alexander of Agriculture and Agri-Food Canada's Lethbridge Research Station and collaborators from the University of Calgary are studying bacterial populations (the microbiota) in the respiratory tract of feedlot cattle. They published the results of a small study supported by the Beef Research Cluster earlier this year (The nasopharyngeal microbiota of beef cattle before and after transport to a feedlot; BMC Microbiology 17:70).
What they did:
Little is known about what the "normal" respiratory microbiota looks like in cattle, let alone how it changes in response to any given stress. Because exposing calves to multiple stresses at the same time may have produced large, complex, difficult to interpret changes in the microbiota, this team focused on the effects of simply moving cattle from the home farm into the feedlot. They used 14 Angus x Hereford heifer calves (640 lbs) from the Canadian Food Inspection Agency's herd at the Animal Disease Research Institute in Lethbridge. These calves had never been vaccinated or treated with antibiotics, were weaned and fed an alfalfa/barley silage diet for 41 days before the trial began, and were transported only 20km to the research feedlot. They were not commingled with any other calves at the feedlot, and were kept on an alfalfa/barley silage diet during the study. This allowed the research team to narrowly focus on the effects of a short distance haul from their farm of birth to the feedlot.
Swabs were collected from the nasopharynx (very back of the nose) immediately before leaving the farm, as well as 2, 7 and 14 days after arriving at the feedlot. These swabs were used for gene sequencing (to identify the relative numbers of different bacteria in the nasopharyngeal microbiota) and for culturing BRD pathogens.
What they learned:
The nasopharyngeal microbiota changed very rapidly. On day 0, 76 main groups of genetically related bacteria were found in all calves. By day 2 this had increased to 292 groups, and averaged 313 groups by days 7 and 14. This suggests that the heifers were picking up new groups of bacteria from the pen environment, feeders and water bowls, as well as sharing bacteria among each other. Not all bacterial groups were the same size, and the groups that were largest at the start got smaller as more groups appeared.
BRD pathogens Mannheimia, Pasteurella and Mycoplasma (but not Histophilus) were detected at d0, d2, d7 and d14. Numbers of Pasteurella generally decreased after d0, but accounted for more than 10% of the microbiota in at least one calf at each of the other time points. Mannheimia numbers peaked on d7, averaging under 5% of the overall nasopharyngeal microbiota. Mycoplasma was still increasing on d14, when it accounted for nearly 40% of the overall nasopharyngeal microbiota, and for more than 63% in four heifers.
All heifers remained healthy during this study despite the apparently profound disruptions in the nasopharyngeal microbiota, and despite the presence of Mycoplasma, Mannheimia and Pasteurella in the nasopharynx of many heifers. This small study didn't collect samples of lung fluid, though, so it's impossible to know whether the lung's microbiota was disrupted or not, or whether any of these potential pathogens had migrated to the lung.
What it means:
There are parallels between pasture health and respiratory health. Healthy noses aren't free of bacteria, and can even carry disease-causing bacteria (pathogens). As long the bacterial populations (microbiota) remain stable, potential pathogens remain at a low level in the nose, where they remain harmless. But when stress disrupts the nasal microbiota, pathogens can flourish, potentially spread to the lung, and may cause disease.
Affordable, effective and accessible antibiotics have allowed the beef industry to prevent BRD relatively well in high-risk feedlot calves. But antibiotic resistance, retail pressure and regulatory revisions all point to changes on the horizon. Like pasture managers, we will need to understand and adopt better ways of preventing problems rather than fixing them.
Our beef industry is fortunate to have the world's pioneering research team in this field located here in Canada. This team now plans to study how vaccination, weaning practices, preconditioning, transportation and commingling affect the overall respiratory microbiota and disease incidence in larger numbers of commercial cattle from the home ranch through the feedlot.
Click here to subscribe to the BCRC Blog and receive email notifications when new content is posted.
The sharing or reprinting of BCRC Blog articles is typically welcome and encouraged, however this article requires permission of the original publisher.

We welcome your questions, comments and suggestions. Contact us directly or generate public discussion by posting your thoughts below.