Beef Quality Audit
This article written by Dr. Reynold Bergen, BCRC Science Director, originally appeared in the August 2018 issue of Canadian Cattlemen magazine and is reprinted on the BCRC Blog with permission of the publisher.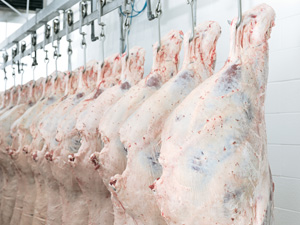 Canada's fourth Beef Quality Audit was completed in March 2018, following previous audits in 1995, 1998 and 2010/11. The carcass audit measured the incidence and economic costs of avoidable defects in Canadian slaughter cattle and beef and identified opportunities to avoid these losses.
What they did:
Mark Klassen, Joyce van Donkersgoed and a team of technicians visited slaughter plants across Canada in the fall of 2016 and winter and spring of 2017. Thousands of cattle and carcasses were examined for a wide variety of possible defects. This column focuses on the most common and costly defects, specifically tag, carcass weight, excess fat and liver abscesses.
Tag (hard lumps of mud and manure on the hide) are caused by poor pen conditions, which also negatively impact animal welfare and feed efficiency. Tag causes hide damage and might increase the risk of carcass contamination during skinning. When tag is excessive, packing plants need to slow their line speeds and labor costs increase.
Excessive fat is expensive to put on through feed, then needs to be trimmed from carcasses and primals to meet retail specifications.
Severely abscessed livers are an animal welfare issue, may reduce animal performance and efficiency, and are worth less for rendering or pet food than healthy livers fit for human consumption.
What they learned:
Compared to the 2010/11 audit, the 2016/17 audit found twice as many fed cattle with excessive tag (from 15% in 2010/11 to 27% in 2016/17), overfat yield grade 3 carcasses (from 14% to 30%) or one or more active abscesses (from 10% to 19%). Average carcass weights also increased by 58 pounds (steers) and 46 pounds (heifers). The combined costs of tag, weight, yield grade, and liver discounts averaged over $67 per carcass (more than $10 higher than in 2010/11). On the plus side, the percentage of AAA/Prime carcasses increased from 54% to 67%.
Why it happened:
The rise in carcass defects has received more ag media attention than the reasons behind the increases. These issues are all closely related. Between 2010/11 and 2016/17 Canada's beef cow herd shrank by 12% and youthful fed cattle slaughter shrank by 8%, with beef imports similar in both years. At the same time, Canada's beef demand more than doubled, particularly for AAA beef. The only way to meet increasing demands for high quality beef in the face of shrinking cattle supplies is to increase carcass weight by keeping cattle on feed longer. This improves marbling, but also increases carcass size, overall fatness, and the risk of liver abscesses. Tag is largely weather-related, but some feedlots that have moved to extremely low roughage finishing diets may be using less bedding.
What can Canada's beef industry do about it?
The easy answers all have significant trade-offs. Rebuilding the cowherd and feeder cattle population is slower and costs more than producing and processing larger cattle and carcasses, particularly when quality grade is a consideration (even if that means collectively eating $67 in discounts). Packers are reluctant to increase carcass discounts because it risks losing cattle to their competitors in Canada or the US. We need to adjust to new realities.
In time, we may learn why 14% of cattle can achieve both yield grade 1 and AAA or Prime, and why over 65% of fed cattle have healthy livers at slaughter.
But what can we do now?
Careful cleaning of feedlot pens and roller compacted concrete can help avoid mud holes and tag. Using more bedding will help, if the cattle don't eat it as a roughage source. Reducing the proportion of grain in the diet might reduce bedding consumption and may reduce (not eliminate) liver abscesses, but it would also reduce feed efficiencies, increase feeding costs and reduce calf prices.
Liver abscesses may become an even greater challenge. An 8% decline in Canada's barley acreage between 2010/11 and 2016/17 means that western feedlots are using more wheat, which may increase the risk of rumen acidosis and liver abscesses. Meanwhile, in-feed antimicrobials (like Tylan for liver abscess control) are coming under increasing scrutiny. Future columns will describe new research that will help address these challenges.
The Canadian Beef Cattle Check-Off has increased from $1 to $2.50 per head in most provinces, with approximately 75 cents allocated to the Beef Cattle Research Council. Canada's National Beef Strategy outlined why the Check-Off increase was needed, and how it would be invested. One goal laid out in the strategy was a 15% increase in cutout value, with the National Beef Quality Audit playing a central role in measuring progress and identifying opportunities for improving consumer satisfaction and confidence. The Beef Quality Audit will be repeated under the third Beef Science Cluster, but Agriculture and Agri-Food Canada has indicated that future Audits will not be eligible for Cluster funding after 2023. The increased Canadian Beef Cattle Check-Off will help Canada's beef industry continue the National Beef Quality Audit in the future, without relying on Cluster funding.
Click here to subscribe to the BCRC Blog and receive email notifications when new content is posted.
The sharing or reprinting of BCRC Blog articles is typically welcome and encouraged, however this article requires permission of the original publisher.