Applications Open for Beef Researcher Mentorship Program
Applications for the 2015-16 term of the BCRC Beef Researcher Mentorship Program are now being accepted. The deadline to apply is June 1, 2015.
The program launched in August 2014 to facilitate greater engagement of upcoming and new applied researchers with Canada's beef industry. Three inaugural participants were selected for a pilot phase. Each researcher was given a travel budget and paired with mentors – innovative producers and industry experts – for a one year term (ending July 31, 2015). The pilot participants have helped shape the program, and each of them report having a very successful and valuable experience through the opportunities provided. Their feedback has noted highlights including:
meeting several producers and industry leaders with whom they ask questions and have meaningful discussions about cattle and forage production,
attending industry events and touring farms and ranches to better understand the impacts, practicalities and economics of adopting research results, and
observing and learning more about ongoing production challenges.
With such a successful pilot phase, the BCRC is excited to continue the program and invite applications from upcoming and new applied researchers in Canada whose studies are of value to the beef industry, such as cattle health and welfare, beef quality, food safety, genetics, feed efficiency, or forages. A new group of participants will begin their mentorships on August 1.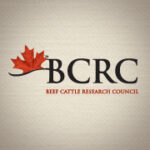 Funding of the BCRC Beef Researcher Mentorship Program is made available through the technology transfer initiative within the second Beef Cattle Industry Science Cluster.
Learn more about the program and download an application form.
Click here to subscribe to the BCRC Blog and receive email notifications when new content is posted.
The sharing or reprinting of BCRC Blog articles is welcome and encouraged. Please provide acknowledgement to the Beef Cattle Research Council, list the website address, www.BeefResearch.ca, and let us know you chose to share the article by emailing us at info@beefresearch.ca.

We welcome your questions, comments and suggestions. Contact us directly or generate public discussion by posting your thoughts below.