Antibiotic Use on Canadian Cow-Calf Operations
This article written by Dr. Reynold Bergen, BCRC Science Director, originally appeared in the September 2018 issue of Canadian Cattlemen magazine and is reprinted on the BCRC Blog with permission of the publisher.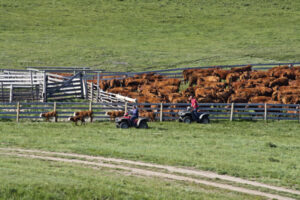 Antibiotic use records are important for producers who want to track the effectiveness of the antibiotics they use. Industry groups need antibiotic use data to refute misleading claims about our production practices. Even restaurant chains and meat companies marketing "antibiotic-free" beef need records to keep treated animals out of their "never-ever" supply stream. When it comes to antibiotic use in the beef industry, most of the attention is focused on the feedlot sector. That's because most of the antibiotic use occurs there, and because large feedlots work closely with specialized veterinarians and have developed sophisticated software to support animal health protocols and recording of animal health treatments. But antibiotic use at the cow-calf level is also important. For example, calves may not respond as well to antibiotics at the feedlot if they have been exposed to a related antibiotic before leaving home.
The most recent reports on antibiotic use in cow-calf operations in Eastern Canada (Canadian Journal of Veterinary Research 72:109) and Western Canada (Preventive Veterinary Medicine 90:55) are nearly 10 years old. The Western Canadian Cow-Calf Surveillance Network (WCCCSN) initiative supported under the 2013-18 Beef Science Cluster provided an opportunity to gather updated information regarding antibiotic use on cow-calf operations.
What they did:
Dr. Cheryl Waldner and co-workers at the Western College of Veterinary Medicine surveyed 100 cow-calf operations in Alberta, Saskatchewan and Manitoba about what antibiotics they used in 2013-2014, how they used them, and what they used them for in breeding bulls, cows, and calves (before and after weaning). The use of both medically important antibiotics (MIAs; antibiotics that are also important to treat human infections) and ionophores (not used in human medicine) were reported. This study has been accepted for publication in the Canadian Veterinary Journal (Antimicrobial usage in western Canadian cow-calf herds).
What they learned:
In a nutshell, most herds used MIAs, but very few animals were given MIAs.
Bulls were given MIA in 72% of herds (mostly for lameness, but also for eye or respiratory infections). In 59% of herds, fewer than 5% of bulls were treated with MIA, and only 4% of herds treated more than 30% of bulls with MIA.
Cows were given MIA in 95% of herds (mainly for lameness, but also for reproductive, eye and respiratory infections and mastitis). In 82% of herds, fewer than 5% of cows were treated using MIA, and only 3% of herds treated more than 30% of cows with MIA.
Nursing calves were given MIA in 95% of herds (mainly for respiratory disease, diarrhea and navel ill). In 48% of herds fewer than 5% of calves were treated using MIA, and 18% of herds treated more than 30% of calves with MIA.
Weaned calves were given MIA in 85% of herds (mainly for respiratory, eye infections and arthritis). In 50% of herds, fewer than 5% of calves were treated with an MIA, and 15% of herds treated more than 30% of calves with MIA.
The most commonly used MIAs were oxytetracycline (e.g. Liquamycin, Alamycin and many others), sulfonamides (found in many scour boluses and suspensions), penicillin (e.g PropPen LA, Pen Vet 3000 and many others), trimethoprim/sulfonamide combinations (e.g. Borgal, Trimidox, and Trivetrin) and florfenicol (e.g. Nuflor, Resflor and Florkem).
What it means:
Producers participating in the WCCCS used MIAs selectively. Although MIAs were used in most herds, very few cattle were actually treated. Of the four most commonly used MIAs, only two (florfenicol and trimethoprim/sulfonamide combinations) currently need a prescription. The other three can be legally purchased over-the-counter for a few more months.
The producers who participated in the WCCCS were initially identified by their regular veterinarians, so they may be more likely to have formal treatment protocols and use prescription antibiotics than producers who purchase all their veterinary products over-the-counter from farm stores. But starting this December, all livestock producers will need a prescription from a veterinarian with whom they have a valid veterinary-client-patient relationship before they will be able to access any medically important antibiotics. Access to ionophores (e.g. monensin) should not change, but rules about who can sell MIA may vary from province to province. If this is news to you, or if you don't already have regular contact with a veterinarian, start planning now! More information about these Health Canada changes are available at Antibiotic Resistance (BCRC Web page).
The Canadian Beef Cattle Check-Off has increased from $1 to $2.50 per head in most provinces, with approximately 75 cents allocated to the Beef Cattle Research Council. Canada's National Beef Strategy outlined why the Check-Off increase was needed, and how it would be invested. One goal laid out in the strategy was a 15% increase in beef demand, partly through increased public understanding of beef industry animal husbandry practices and communicating the role of responsible antibiotic stewardship practices. Thanks to the increased Canadian Beef Cattle Check-Off, the surveillance network initiative is being expanded from a Western Canadian initiative to a coast-to-coast Canadian Cow-Calf Surveillance Network under the 2018-23 Beef Science Cluster.
Click here to subscribe to the BCRC Blog and receive email notifications when new content is posted.
The sharing or reprinting of BCRC Blog articles is typically welcome and encouraged, however this article requires permission of the original publisher.

We welcome your questions, comments and suggestions. Contact us directly or generate public discussion by posting your thoughts below.