Using Research Funds More Efficiently
This article written by Dr. Reynold Bergen, BCRC Science Director, originally appeared in the February 2015 issue of Canadian Cattlemen magazine and is reprinted on the BCRC Blog with permission of the publisher.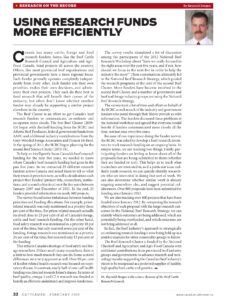 Canada has many cattle, forage and beef research funders. Some, like the Beef Cattle Research Council and Agriculture and Agri-Food Canada, fund projects all across the country. Others, like most provincial beef organizations and provincial governments have a more regional focus. Each funder generally operates completely independently from every other. Each funder sets their own priorities, makes their own decisions, and administers their own projects. They each do their best to fund research that will benefit their corner of the industry, but often don't know whether another funder may already be supporting a similar project elsewhere in the country.
The Beef Cluster is an effort to get Canada's beef research funders to communicate, coordinate and cooperate more closely. The first Beef Cluster (2009-13) began with check-off funding from the BCRC and Alberta Beef Producers, federal government funds from AAFC and additional industry contributions from the Grey-Wooded Forage Association and Pioneer Hi-Bred. In the spring of 2012, the BCRC began planning for the second Beef Science Cluster (2013-18).
To help us intelligently focus Canada's beef research funding for the next five years, we needed to know where Canada's beef research funding had gone in the past five years. So we contacted 25 different research funders across Canada and asked them to tell us what their research priorities were, as well as details about each project they funded (project title, researchers, institutions, and research objectives) over the five years between January 2007 and December of 2011. In the end, 23 funders provided information on nearly 600 projects.
The survey found some imbalances between funding priorities and funding allocations. For example, prion-related research was only mentioned as a priority 3% of the time. But prion-related research actually received close to 25% of all of the Canada's forage, cattle and beef research funding. On the other hand, food safety research was mentioned as a priority 18% of the time, but only received 7% of the funding. Forage research was mentioned as a priority 24% of the time, but received only 13% of the funding. This reflects Canada's shortage of food safety and forage researchers. If there aren't many researchers, there is a limit to how much research they can do. Some sectoral differences were very apparent as well. Over 90% of feedlot related health research was focused on respiratory disease. In contrast, nearly half of cow-calf health funding was directed towards Johne's disease. In terms of beef quality, omega-3 and CLA research was funded as heavily as efforts to understand and improve tenderness.
The survey results stimulated a lot of discussion among the participants of the 2012 National Beef Research Workshop about "have we really focused in the right areas over the past five years, and if not, how should we focus in the next five in order to help the industry the most?" These conversations ultimately led to the National Beef Research Strategy, which guided the research programs at the core of the second Beef Cluster. More funders have become involved in the second Beef Cluster, and a number of government and beef and forage industry groups are using the National Beef Research Strategy.
The survey took a lot of time and effort on behalf of the BCRC as well as each of the industry and government funders who pored through their files to provide us with information. The funders discussed these problems at the National Workshop and agreed that everyone would benefit if funders communicated more closely all the time, not just once every five years.
Because of our experience doing the funder survey, the BCRC was asked to develop a beef research inventory to track research funding on an ongoing basis. In simple terms, we are tracking two things. Firstly, participating funders are letting us know about all of the proposals that are being submitted to them (whether they are funded or not). This helps us to track what researchers are interested in, so if a particular issue suddenly needs research, we can quickly identify researchers who are interested in doing that sort of work. We can also determine whether similar work is already ongoing somewhere else, and suggest potential collaborators. Over 800 proposals have been submitted for funding since January 2012.
We are also tracking over 400 projects that have been funded since January 2012. By comparing the research objectives of each proposal with the target research outcomes in the National Beef Research Strategy, we can identify which outcomes are being addressed, which are potentially being over-funded, and which outcomes are not being addressed at all.
In fact, the beef industry's approach to strategically coordinating research funding is now being held up as a positive example for other commodity groups to follow.
Click here to subscribe to the BCRC Blog and receive email notifications when new content is posted.
The sharing or reprinting of BCRC Blog articles is typically welcome and encouraged, however this article requires permission of the original publisher.

We welcome your questions, comments and suggestions. Contact us directly or generate public discussion by posting your thoughts below.