Understanding Risk Factors of Anaplasmosis Transmission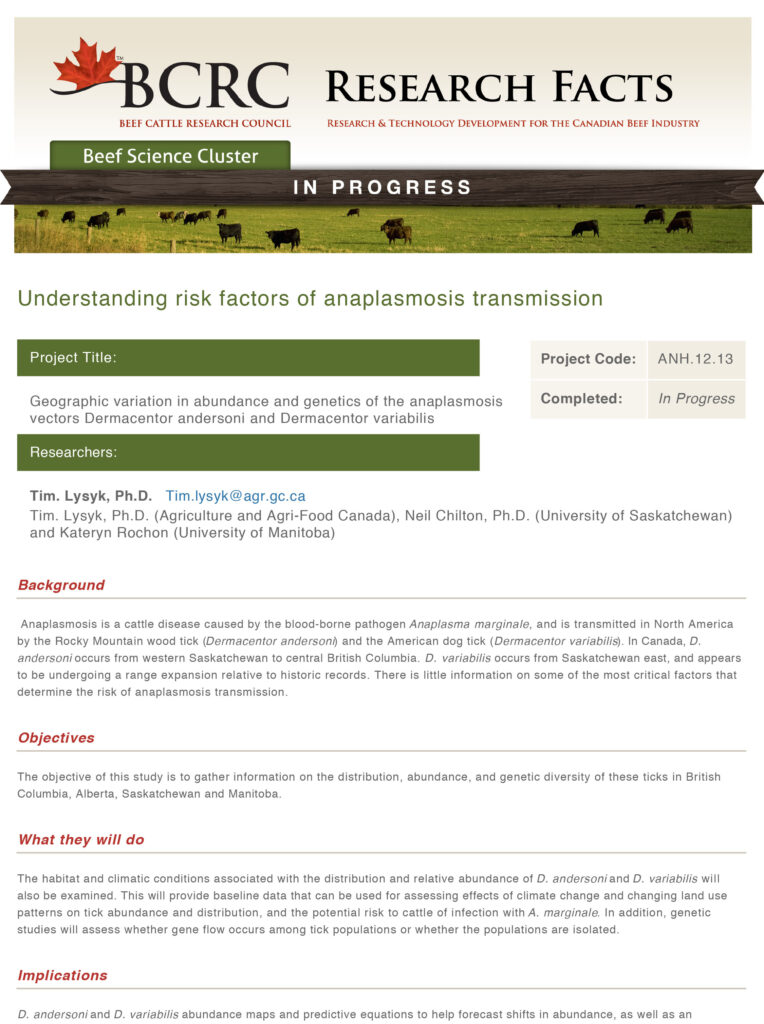 Anaplasmosis is a blood-borne disease of cattle caused by the pathogen Anaplasma marginale. This pathogen is transmitted in North America by the Rocky Mountain wood tick (Dermacentor andersoni) and the American dog tick (Dermacentor variabilis).The Rocky Mountain wood tick is found In western Saskatchewan to central British Colombia. The American dog tick is found from Saskatchewan east but appears to have undergone a range expansion according to historic record. Currently there is little information on some of the most critical factors that determine the risk of anaplasmosis transmission.
Research currently underway and funded by the National Check-off and Canada's Beef Science Cluster is working to gather information on the distribution, abundance, and genetic diversity of these ticks in British Columbia, Alberta, Saskatchewan and Manitoba. The information will help to forecast shifts in abundance, and help to identify areas that are less prone to transmission. Better understanding of these ticks will allow for targeted vector and pathogen surveillance and management.
To learn more about this research, see the BCRC fact sheet.
Click here to subscribe to the BCRC Blog and receive email notifications when new content is posted.
The sharing or reprinting of BCRC Blog articles is welcome and encouraged. Please provide acknowledgement to the Beef Cattle Research Council, list the website address, www.BeefResearch.ca, and let us know you chose to share the article by emailing us at info@beefresearch.ca.

We welcome your questions, comments and suggestions. Contact us directly or generate public discussion by posting your thoughts below.