Understanding dark cutters to reduce prevalence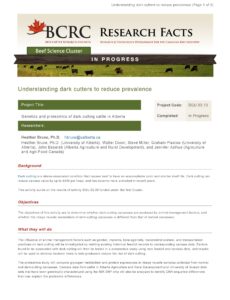 Dark cutting is a stress-associated condition that causes beef to have an unacceptable colour and shorter shelf life. Dark cutting, which is most common during the hottest months of the year, significantly reduces carcass value. It has become more prevalent in recent years.
Research currently underway, funded by the National Check-off and Canada's Beef Science Cluster, is working to determine whether dark-cutting carcasses are produced by animal management factors, and whether the ribeye muscle metabolism of dark-cutting carcasses is different than that of normal carcasses. This research builds on work funded under the first Cluster.
Results will help inform decisions made by feedlot operators to effectively reduce the incidence of dark cutting, and therefore provide economic benefits for Canadian feeders and packers. By identifying genetic factors that may influence the risk of dark cutting, genetic improvement of seedstock may also help to reduce the incidence.
To learn more about this research, see the BCRC fact sheet:
Learn more
Click here to subscribe to the BCRC Blog and receive email notifications when new content is posted.
The sharing or reprinting of this BCRC Blog article is welcome and encouraged. Please provide acknowledgement to the Beef Cattle Research Council, list the website address, www.BeefResearch.ca, and let us know you chose to share the article by emailing us at info@beefresearch.ca.

We welcome your questions, comments and suggestions. Contact us directly or generate public discussion by posting your thoughts below.