Tips to Make the Most of Your Vaccine Protocol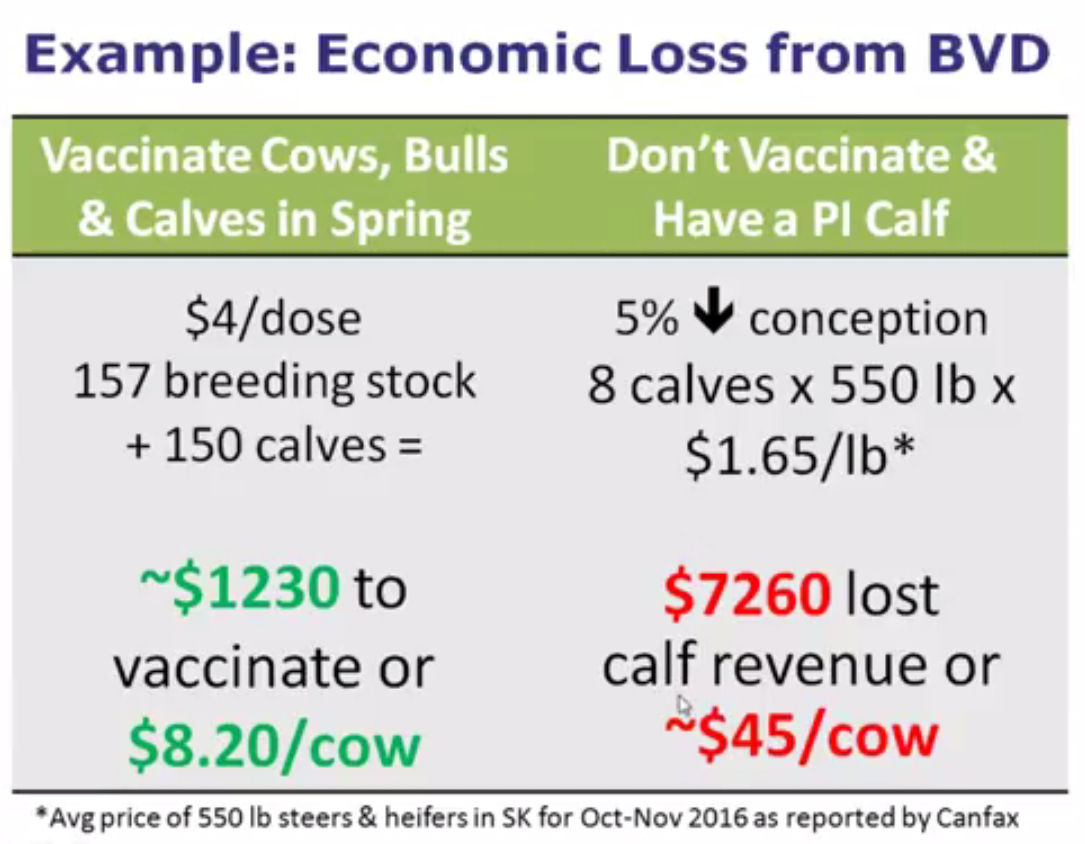 Vaccines can seem costly, and it's not easy to see how or to what extent they pay off. But cost-of-production analyses show that low-cost/profitable operations don't cut corners when it comes to herd health. For example, the cost of a whole herd vaccination program for bovine viral diarrhea (BVD) virus in a 150 head cow herd (includes 157 breeding stock and 150 calves) is estimated at $8.20 per cow (assuming $4 per vaccine dose). If that herd wasn't vaccinated and ended up with a persistently infected (PI) calf and 5% decreased conception due to BVD, they would suffer a loss of $45 per cow across the herd.
Kathy Larson, Economist at the Western Beef Development Centre, crunched those numbers for us during a recent BCRC webinar, illustrating that effective vaccination protocols developed for your herd with your veterinarian pay off.
Following her demonstration of the economics of vaccination, Dr. Nathan Erickson, Veterinarian at the Western College of Veterinary Medicine reminded producers that vaccines don't eliminate disease completely but are able to significantly reduce the number of animals that get sick. Essentially, vaccines control disease, not prevent it.
Vaccines won't be cost effective if they aren't handled, stored, and administered properly.
Here are some of Dr. Erickson's tips to help you make the most of your vaccine program
Don't store vaccines in the door of the fridge (41:40)Vaccines are very temperature sensitive, especially modified live vaccines. When the door opens, items stored in the door fluctuate in temperature. The best place in the fridge to keep vaccines is on the middle shelves.
For details and more tips, watch the full webinar:
Click here to subscribe to the BCRC Blog and receive email notifications when new content is posted.
The sharing or reprinting of BCRC Blog articles is welcome and encouraged. Please provide acknowledgement to the Beef Cattle Research Council, list the website address, www.BeefResearch.ca, and let us know you chose to share the article by emailing us at info@beefresearch.ca.

We welcome your questions, comments and suggestions. Contact us directly or generate public discussion by posting your thoughts below.