Will Swath Grazing in Late Summer Help Maintain Alfalfa in Rested Perennial Pastures?
This article written by Dr. Reynold Bergen, BCRC Science Director, originally appeared in the April 2015 issue of Canadian Cattlemen magazine and is reprinted on the BCRC Blog with permission of the publisher.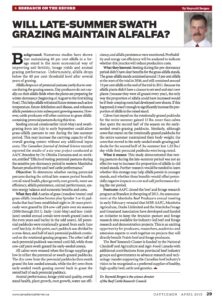 Background
Numerous studies have shown that maintaining 40% alfalfa in a forage stand is the most economical way of improving soil fertility, forage yields and animal grazing performance. Unfortunately, alfalfa drops below the 40% threshold level after several years of grazing.
Alfalfa drops out of perennial pastures partly due to over-use during the grazing season. Hay producers do not usually cut their alfalfa fields when the plants are preparing for winter dormancy (beginning of August to the first killing frost). This helps alfalfa withstand future stresses such as low temperature, future defoliation and disease, and enhances alfalfa persistence into subsequent growing seasons. However, cattle producers will often continue to graze alfalfa-containing perennial pastures during this time.
Seeding annual cereals earlier (mid-May) and swath-grazing from late July to early September could allow grass-alfalfa pastures to rest during the late summer period. This may increase in the carrying capacity of the overall grazing system without any additional input costs. The Canadian Journal of Animal Science recently reported the results of a six-year project conducted at AAFC Brandon by Dr. Obioha Durunna and coworkers, entitled "Effects of resting perennial pastures during the sensitive pre-dormancy period in western Manitoba: Pasture productivity and beef cattle performance".
Objective
To determine whether resting perennial pastures during the critical late-season period benefits overall stand health, plant growth, root growth, water use efficiency, alfalfa persistence, animal performance, system energy balance and economic benefits and costs.
That they did
A series of grass (meadow brome) and grass-alfalfa (meadow brome plus Spredor 3 or 4) paddocks that had been established 8 to 26 years previously were grazed by 224 cow-calf pairs over six seasons (2006 through 2011). Early- (mid-May) and late- (mid-June) seeded annual cereals were swath grazed (oats in the even years and barley in the odd years). All perennial paddocks were rotationally grazed from early June until late July. At this point, each paddock was divided by a cross-fence, and half of each perennial paddock continued on the rotational grazing program. The other half of each perennial paddock was rested until fall, while those cow-calf pairs swath-grazed the early-seeded cereals. All calves were weaned when the forage supplies got low in either the perennial or swath-grazed paddocks. The dry cows from the perennial paddocks then swath-grazed the late-seeded annuals, while the dry cows from early-seeded swath grazing moved back to graze the rested half of each perennial paddock. Animal performance, forage yield and quality, overall stand health, plant growth, root growth, water use efficiency, and alfalfa persistence were monitored. Profitability and energy use efficiency will be analyzed to indicate whether this practice will reduce production costs.
What they Learned
Resting during the pre-dormancy period didn't have clear benefits for the grass-alfalfa stands. The grass-alfalfa stands contained around 15% alfalfa at the start of the trial in 2006, and still contained around 15% alfalfa at the end of the trial in 2011. Because the alfalfa plants didn't have a chance to set seed and start new plants (because they were all grazed every year), the only way the proportion of alfalfa could have increased would be if their creeping roots had developed new shoots. If this happened, it wasn't enough to significantly increase the proportion of alfalfa in the mixed stand.
Calves that stayed on the rotationally grazed paddocks for the entire summer gained 15lbs more than calves that spent the second half of the season on the early-seeded swath-grazing paddocks. Similarly, although cows that stayed on the rotationally grazed paddocks for the entire summer maintained their body weight, the cows that moved to the early seeded swath-grazing paddocks for the second half of the summer lost 1.25 lbs/day while their perennial paddocks were being rested.
What it Means
This study demonstrated that resting pastures during the late summer period was not an effective way to increase the proportion of alfalfa in old mixed stands. Further research would be needed to learn whether this strategy may help alfalfa persist in younger stands, and whether these benefits would offset potentially negative impacts on cow and calf performance during the rest period.
Footnote
AAFC closed the beef and forage research program at Brandon in the spring of 2013. An announcement at the Manitoba Beef Producers Annual Meeting in early February revealed that MBP, AAFC, Manitoba Agriculture, Ducks Unlimited and the Manitoba Forage and Grassland Association have developed and funded an initiative to keep the Brandon pasture and forage research sites available for industry-led beef and forage research and demonstration projects. This is an exciting opportunity for producers, researchers, academics and extension experts to work together on projects that will directly benefit prairie beef and forage producers.
Click here to subscribe to the BCRC Blog and receive email notifications when new content is posted.
The sharing or reprinting of BCRC Blog articles is typically welcome and encouraged, however this article requires permission of the original publisher.

We welcome your questions, comments and suggestions. Contact us directly or generate public discussion by posting your thoughts below.