Registration Open for the 2019/2020 BCRC Webinar Series

This year's webinar series will cover a range of topics from feed testing to external parasites and other practical, science-based information for Canadian beef producers.
You can register for as many (or all!) of the webinars you're interested in at once. After you click the link above, be sure to scroll down to see and select for all eight (8).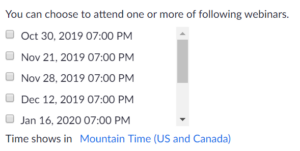 See topics and descriptions below.
We recommend registering regardless of whether you can attend during the date/time listed. By registering, you'll receive the link that allows you to watch the recording at any time, reminders to attend the live event, plus additional resources on the topic. It's no problem if you miss a webinar you'd registered for – you will receive a link to the recording – however joining the live broadcast is recommended as it gives you the opportunity to interact and ask your own questions.
BCRC webinars are available and free of charge thanks to guest speakers who volunteer their time and expertise to support advancements in the Canadian beef industry, and through the Knowledge Dissemination and Technology Transfer project funded by the Canadian Beef Cattle Check-Off and Canada's Beef Science Cluster.
Recordings of our past webinars can be found on our webinars page.
2019/2020 BCRC Webinars
Does your feed pass the test? Making sense of feed test results – October 30, 2019, 7:00 PM MT.
Speakers: Karin Schmid, Alberta Beef Producers and Megan Van Schaik, Ontario Ministry of Agriculture, Food and Rural Affairs (OMAFRA). Do you ever look at a feed analysis report and think "huh?" Unsure of how to collect and send away feed samples for testing? Want to be sure you're using feed wisely so your cattle perform as expected without wasting valuable feed? This webinar is for you.
Supplementing your cow herd: Managing the pregnant cow for better calf performance – November 21, 2019, 7:00 PM MT.
Speakers: Katie Wood, PhD., University of Guelph and producer TBA. The pregnant cow herd is the most valuable part of any cow-calf operation. This webinar will discuss management tips to improve calf performance.
Genomics 101 – November 26, 2019, 7:00 PM MT.
Speakers: Stacey Domolewski, BCRC and Steve Miller PhD., American Angus Association. DNA is the genetic code that determines how an organism grows, what it looks like, and how it performs in a specific environment. This webinar will discuss how genomics can be used on both purebred and commercial operations.
Steps to reduce disease in newborn calves – December 12, 2019, 7:00 PM MT.
Speakers: Steve Hendrick, DVM, Coaldale Veterinary Services. Lifelong health in a beef animal can start with early interventions to improve newborn calf health and prevent calf death. Ellen Crane, BCRC Extension Coordinator, will also demonstration how to use the new BCRC website search tool, helping you find the information you're looking for more quickly.
Veterinary insights from across Canada – January 16, 2020, 7:00 PM MT. Speakers Werner Debertin, DVM, Provincial Vet Service NB, Jenna Funk, DVM, Metzger Veterinary Services, and Mike Jelinksi, DVM, Veterinary Agri-Health Services. A panel of veterinarians from across Canada will discuss some of the most common diseases they see and will answer your questions.
Assessing winter kill and what you can do about it: forage rejuvenation – February 13, 2020, 7:00 PM MT.
Speakers: Bill Thomas consultant, Christine O'Reilly, OMAFRA and Alberta producer Graeme Finn. Several factors can influence the abundance of winter kill. This webinar will discuss how to assess winter kill in alfalfa and other species, and identify the next steps to rejuvenate the forage.
Prevent external parasites from bugging your cattle – March 12, 2020, 7:00 PM MT.
Speakers: Kateryn Rochon, PhD., University of Manitoba and Shaun Dergousoff, PhD., Agriculture Agri-Food Canada. External parasites can reduce weight gains, cause losses in milk and meat production, produce general weakness, cause mange and severe dermatitis, and create sites for secondary invasion of disease organisms. This webinar will discuss methods on how to prevent and treat external parasites on cattle.
Sprouting Technology – March 25, 2020, 7:00 PM MT.
Speakers: Tamara Carter, Saskatchewan Forage Council, and Brenna Grant, Canfax. This webinar will present new tools available to producers to assist with making decisions around forage production on your operation including the Forage U-Pick tool and, Animal Unit Month and Carrying Capacity calculators.

Click here to subscribe to the BCRC Blog and receive email notifications when new content is posted.
The sharing or reprinting of BCRC Blog articles is welcome and encouraged. Please provide acknowledgement to the Beef Cattle Research Council, list the website address, www.BeefResearch.ca, and let us know you chose to share the article by emailing us at info@beefresearch.ca.

We welcome your questions, comments and suggestions. Contact us directly or generate public discussion by posting your thoughts below.