Measuring and Mitigating Pain During Castration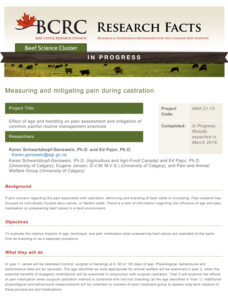 Public concern regarding the pain associated with castration, dehorning and branding of beef cattle is increasing. Past research has focused on individually housed dairy calves, or feedlot cattle. There is a lack of information regarding the influence of age and pain medication on preweaning beef calves in a herd environment.
Research currently underway and funded by the National Check-off and Canada's Beef Science Cluster is evaluating the relative impacts of age, technique, and pain medication when preweaning beef calves are castrated at the same time as branding or as a separate procedure.  This work will generate science-based recommendations regarding the best age to carry out painful routine management procedures and identify target ages which may require pain mitigation. A practical method of alleviating both acute and chronic pain associated with band and knife castration in young beef calves will also be assessed and identified.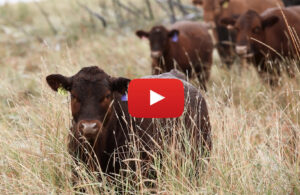 This information is required to make sound industry recommendations to the Beef Codes of Practice.
To learn more about this research, see the BCRC fact sheet.
Click here to subscribe to the BCRC Blog and receive email notifications when new content is posted.
The sharing or reprinting of BCRC Blog articles is welcome and encouraged. Please provide acknowledgement to the Beef Cattle Research Council, list the website address, www.BeefResearch.ca, and let us know you chose to share the article by emailing us at info@beefresearch.ca.

We welcome your questions, comments and suggestions. Contact us directly or generate public discussion by posting your thoughts below.