Maintaining Momentum
This article written by Dr. Reynold Bergen, BCRC Science Director, originally appeared in the December 2017 issue of Canadian Cattlemen magazine and is reprinted on the BCRC Blog with permission of the publisher.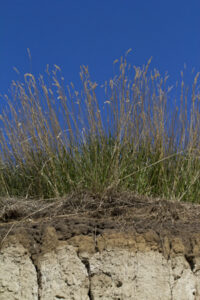 Canada's pasture and rangelands have drier, colder, and shorter growing seasons than many other beef producing areas in the world. The forage varieties that perform best in Canada are generally the ones that have been bred, selected and developed to germinate, grow, survive and thrive here. Forage varieties developed in foreign countries are sometimes marketed in Canada, but they weren't developed under our climate and may not perform as well as home-grown varieties.
A total of 144 new perennial forage cultivars (grasses and legumes) were developed in Canada and registered between 1932 and 2017. Although private or not-for-profit companies often sell these seeds, these companies rarely did the actual breeding and development work. Nearly all (98%) of these 144 cultivars were developed by public (government and university) breeding programs. It is critically important that universities and governments continue these breeding programs, because when a program stops it takes years to rebuild its momentum.
Here are a few examples. Only 8 new perennial forage varieties were registered during the 1930's; forage breeding programs that had lost manpower and momentum due to World Ware 1 were still rebuilding when World War 2 started. Only 3 new perennial forage varieties were registered during the 1940's. Many more recruits were drafted and sent overseas during World War 2, and some forage breeders who remained in Canada were reassigned to develop grasses that could reinforce and stabilize air force landing strips. World War 2 ended in 1945, but only 4 new Canadian perennial forage varieties were released during the 1950's, and only 15 during the 1960's. Forage breeding programs never really regained their momentum until the 1970's, when 24 new varieties were released, and maintained their momentum through the 1980's (23 new varieties), 1990's (28), and 2000's (25). Fourteen new perennial forage varieties have been registered since 2010.
It takes a long time to develop a new variety from scratch. Dr. Bruce Coulman of the University of Saskatchewan (who provided me with this list of Canada's forage varieties), recently recalled the start of his forage breeding career at McGill University. McGill had allowed its forage breeding program to collapse, and had no breeding lines under development when Bruce started. Starting from scratch in 1976, Bruce registered his first forage variety in 1993. After that, the new variety had to be commercialized, foundation seed multiplied and grown to commercial quantities, marketed and adopted. When starting with nothing, it can take the better part of two decades for a new variety to proceed from the initial crosses to commercial availability. The development pipeline is very long, so it takes a long time after the breeding tap is opened before any new varieties start to flow out the other end.
The reverse is also true. New varieties can emerge from a breeding program long after the program has stopped making the initial crosses and selections to develop new varieties. This can give the false illusion that all is well. Remember; this pipeline is very long, so new varieties can continue to trickle onto the market long after the tap has been turned off.
Funding determines whether governments and universities keep the taps open on their breeding programs. Historically, forage breeding (like all agricultural research) was funded almost entirely by tax dollars. Today, industry dollars are needed to help support and encourage continued government and university investment in these breeding and research programs. This probably a symptom of how society has changed; in 1931, 32% of Canadians lived on farms. In 2011, fewer than 2% of Canadians lived on farms. Agriculture's contribution to Canada's economy is still very significant, but public support for agricultural research now faces ever increasing demands for public support for urban healthcare, education, etc.
The Canadian Beef Cattle Check-off provides a significant share of the industry funds that support government and university beef cattle and forage research programs in Canada. In recent years, provincial beef producer groups have increased the research allocation of the Canadian Beef Cattle Check-off dollar from an average of 6 cents to an average of 18 cents. That has greatly increased the Beef Cattle Research Council's ability to leverage producer funds more effectively, and fund a broader variety of research. The current Beef Science Cluster has allocated 30% of its funds towards forage breeding and production research. Industry investments like this have encouraged governments and universities to also renew their commitment to forage research.
Over the past two years, at least nine new forage researchers have been hired by the Universities of Saskatchewan, Manitoba and Agriculture and Agri-Food Canada stations across the country. Some of these new researchers have even been hired before their more experienced counterparts have retired. This is really beneficial, because it means they can benefit from the experience and wisdom their mentor gathered over the course of their career, and helps maintain momentum in Canada's forage breeding and management research.
Click here to subscribe to the BCRC Blog and receive email notifications when new content is posted.
The sharing or reprinting of BCRC Blog articles is typically welcome and encouraged, however this article requires permission of the original publisher.