Introducing 'The Gatepost', a New E-Newsletter from the Canadian Beef Cattle Check-Off Agency
The Gatepost is written and distributed by the Canadian Beef Cattle Research, Market Development and Promotion Agency. Below is a copy of the first issue. To receive future issues of The Gatepost, subscribe here.

Welcome to The Gatepost!
The Canadian Beef Cattle Research, Market Development and Promotion Agency (the Agency), which is responsible for the management of the National Check-Off, is happy to bring a new look and feel to the former Branding Iron weekly updates and semi-annual print newsletter.

It is our job as administrators of the NCO, under the direction of our partners, to clearly communicate the value that producers receive for their check-off. Communicating value for our producers means sharing research accomplishments from the Beef Cattle Research Council (BCRC) and marketing and promotion achievements from Canada Beef, and how together we are creating a stronger beef industry in Canada.
In our weekly issues of The Gatepost, expect to see short, shareable information that showcases the value that BCRC and Canada Beef bring by investing check-off dollars in their programs and initiatives, and educational information about the NCO and it's administration. Our semi-annual summer and winter publications, which can be found in the provincial beef producer magazines and online, will focus on higher level strategy, governance, and industry goals.
We invite you to keep in contact with our core partners and their programs and initiatives directly:
Beef Cattle Research Council (BCRC)
Canada Beef
We look forward to working together with our core partners, and provincial organizations.
Regards,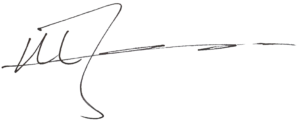 Melinda German General Manager
Canadian Beef Cattle Research, Market Development and Promotion Agency
---
Agency partners and industry leaders meet with Earl's
On April 28, 2016, Earl's Kitchen + Bar announced their intent to source beef for their 46 locations from a Kansas ranch, under the Certified Humane™ program.
Following the announcement, Earl's reached out to National Check-Off Agency core partners from the Beef Cattle Research Council (BCRC), Canada Beef, and industry representatives from the Canadian Cattlemen's Association (CCA), Alberta Beef Producers (ABP) and the Canadian Roundtable for Sustainable Beef (CRSB).
BCRC and Canada Beef, along with the other industry groups, took the opportunity to emphasize the underlying development and verification processes that drive the efficacy and safety of Canadian beef production.
BCRC provided Earl's leaders with an overview of the Code of Practice for the Care and Handling of Beef Cattle, the use of hormones and antibiotics in Canadian beef production, and the Verified Beef Production Plus program. They also highlighted the distinction between the Code of Practice, and the Certified Humane™ standard, clarifying common misconceptions about the regulations, surveillance and human and animal health implications of hormone and antibiotic use in beef cattle.
BCRC also led a discussion around the significant investment in non-production research that the Canadian beef industry has made to encourage science-based decision making, and to address questions around the safety of Canadian beef production practices. This includes areas such as antimicrobial resistance and use, animal welfare during transport and pain mitigation.
Canada Beef overviewed the Canadian Beef Brand and the four core supporting pillars of: the producers who raise their cattle with care; the wholesome and nutritious food that consumers crave; our world-class standards for quality and safety; and our commitment to sustainability.
Canada Beef leadership discussed how strongly the Canadian Beef Brand resonates with consumers (as evidenced by the social media response to their U.S. sourcing) and how Earl's could leverage that support if they adopted Canadian supply. Canada beef also committed to work with Earl's to help source Canadian beef.
There was recognition during the discussions that the Canadian beef industry is backed by significant science and that current codes of practice and verification systems appear to exceed those in the Certified Humane™ program. In combination with the partnerships developed through the CRSB, these initiatives demonstrate the true integrity and potential of Canada's cattle and beef production system.
After reaching out to the Canadian beef industry, Earl's released a statement committing to "sourcing as much beef" as they can from Canada and to working with the Canadian beef industry to build supply.  Mo Jessa, President of Earl's, also shared the commitment online through social media.
The Agency's core partners and the Canadian beef industry look forward to working with Earl's to source beef from Canadian producers, and continuing to tell the story of Canada's commitment to food safety, environmental protection and animal care.
For more information, contact:
Beef Cattle Research Council
(403) 275-8558
www.beefresearch.ca
Canada Beef
(403) 275-5890
www.canadabeef.ca
---
Return Clients Innovate at the Canadian Beef Centre of Excellence
Recently, the Canadian Beef Centre of Excellence (CBCE) had some return clients from Ontario spend another two full days of innovation using Canadian beef. After spending time in the CBCE last year, Denninger's was able to add value to less valuable cuts. In 2015, CBCE staff worked with Denninger's on nearly 20 different opportunities with both raw and cooked products for their commissaries and fresh meat case, and they adopted all of them into their operations.
After seeing such great success last year, Denninger's was back this week focusing on beef and veal sausage, burgers, and extensive shelf life testing for sausage. Also on the cutting board this week was value added opportunities from the chuck roll, stuffed loin tail and striploin medallions.
The Denninger's team left the CBCE as, in their own words, "strong Canadian beef brand ambassadors."
Watch this video from Canada Beef to learn more about how the CBCE brings together all areas of the beef value chain from farm to fork.
---
The Value of Research
Research and innovation are key to driving competitiveness and innovation in the Canadian beef cattle industry and driving increased consumer demand for beef products on a global scale. Funding for research by producers through the National Check-off is important for leveraging government investments.
Combined contributions create opportunities for research projects to answer the questions and develop the technologies necessary to continually find better and more efficient methods of producing high quality beef and beef cattle. Research has the opportunity to create numerous benefits for producers, processors and consumers.
Watch this video from the Beef Cattle Research Council (BCRC) website to learn more about how research continues to bring value to producers for their check-off investment.
---
Forage & Grasslands Research
The health and profitability of the cow-calf sector depend on forage and grassland productivity. Research is focused on the development of strategies that will improve grassland management to increase productivity and sustainability. Research also works to develop annual and perennial forage varieties with increased biomass yield per acre, maintained or improved nutritional value, improved water efficiency, and appropriate economic characteristics.
With improved research and training capacity, further research in this area can quantify the environmental footprint and socio-economic impact of the forage-beef sector in Canada. Further research can also improve yields and nutritional quality of tame, native and annual species.
The Beef Cattle Research Council (BCRC) has a number of resources available to producers focusing on forage and grasslands, grazing and more.
Past BCRC Webinars
Forage and Grassland Research
---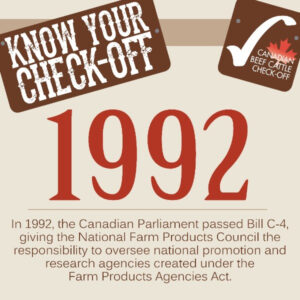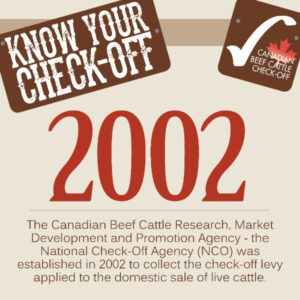 What kind of information would you like to see in our "Know Your Check-Off" program? Let us know!
Click here to subscribe to the Gatepost.
Click here to subscribe to the BCRC Blog and receive email notifications when new content is posted.
The sharing or reprinting of BCRC Blog articles is typically welcome and encouraged, however this article requires permission of the original publisher.

We welcome your questions, comments and suggestions. Contact us directly or generate public discussion by posting your thoughts below.