Economically Increasing Forage Production
If you're in need of more hay or pasture land, your options are to: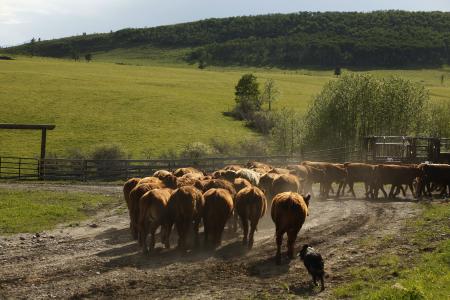 Purchase hay from another producer
Buy or rent more hayland or pasture acres
Rejuvenate the acres you've got through

Chemical fertilizer,
Organic fertilizer, and/or
Incorporating legumes

Re-establish acres by tilling and reseeding
Which option is the most economical?
We've conducted a review of past research on increasing forage production with a greater focus on hay production for winter feed. Here's the highlights of what we found:
Hay yields in Canada have been steady over the past 60 years; annual crops have had significant yield improvements.
Nutrient deficiency in soil is one of the important factors limiting forage productivity in Canada.
Yield response to fertilizer is unpredictable.
The profitability of fertilizing forage crops is highly variable. Its feasibility depends on the cost of fertilizer, hay prices and land value.
A cost effective way to increase forage yield is to add legume (alfalfa) to the mix. Management experience and use of available products prevent death losses from alfalfa related bloat.
Bale grazing systems have the potential to improve soil nutrient levels, hay quality and forage yield.
Research on forage varieties with higher yields and longer stand life is needed.
Learn more on our new webpage, Improving Forage Yields under Research >> Forage and Grasslands.
Click here to subscribe to the BCRC Blog and receive email notifications when new content is posted.
The sharing or reprinting of this BCRC Blog article is welcome and encouraged. Please provide acknowledgement to the Beef Cattle Research Council, list the website address, www.BeefResearch.ca, and let us know you chose to share the article by emailing us at info@beefresearch.ca.

We welcome your questions, comments and suggestions. Contact us directly or generate public discussion by posting your thoughts below.