Improving Barley and Triticale Feed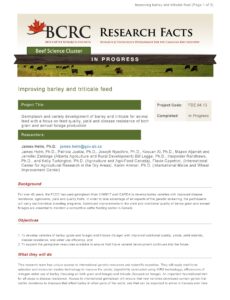 Continued improvements in the yield and nutritional quality of barley grain and annual forages are essential to maintain a competitive cattle feeding sector in Canada.
Research currently underway, funded by the National Check-off and Canada's Beef Science Cluster, is working to develop varieties of barley (grain and forage) and triticale (forage) with improved nutritional quality, yields, yield stability, disease resistance, and water use efficiency. This research will also expand the germplasm resources available to ensure that varietal development continues into the future.
To learn more, see the BCRC fact sheet,
Click here to subscribe to the BCRC Blog and receive email notifications when new content is posted.
The sharing or reprinting of BCRC Blog articles is welcome and encouraged. Please provide acknowledgement to the original author and let us know you chose to share the article by emailing us at info@beefresearch.ca.

We welcome your questions, comments and suggestions. Contact us directly or generate public discussion by posting your thoughts below.