Excellent Opportunity for Students: International Livestock Congress Calgary
Attention students:
Be sure to consider applying for the International Livestock Congress (ILC) Calgary Student Program. (Or if you know students interested in beef-related research, please encourage them to take a look at this.)
The ILC Calgary Student Program is open to senior level undergraduate and graduate students across Canada and around the world. Participants will visit Calgary, Alberta and surrounding areas July 8-11, 2014. Highlights will include:
tours of several facilities, including a feedlot, packing plant, and retailer (see the tour agenda)
attending the conference to learn and discuss some of the industry's current challenges and opportunities (see the conference agenda)
meeting leaders and experts in Canada's beef sector
visiting the 2014 Calgary Stampede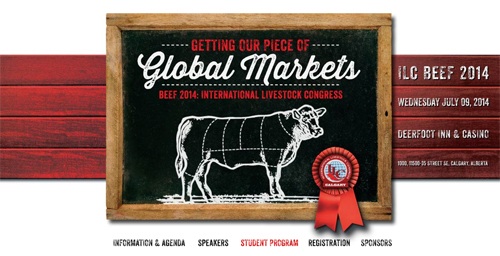 The ILC Calgary Student Program is an excellent opportunity for future beef, cattle and forage researchers to see facilities involved in various aspects of beef production, and to broaden their networks with industry players. This experience could be valuable in their understanding of industry's research needs and how to develop innovations with a practical, solution-based focus.
Applications for 2014 travel bursaries are currently being accepted.
Deadline for applications is May 1, 2014.
Click here to subscribe to the BCRC Blog and receive email notifications when new content is posted.
The sharing or reprinting of this BCRC Blog article is welcome and encouraged. Please provide acknowledgement to the Beef Cattle Research Council, list the website address, www.BeefResearch.ca, and let us know you chose to share the article by emailing us at info@beefresearch.ca.

We welcome your questions, comments and suggestions. Contact us directly or generate public discussion by posting your thoughts below.