Focus on Productivity
This is a guest post by Canfax Research Services.
The feedlot and packing sectors have been very successful at driving productivity and efficiency gains through larger carcass weights, average daily gains, feed to gain ratios and yield in order to decrease per unit costs and maximize profits.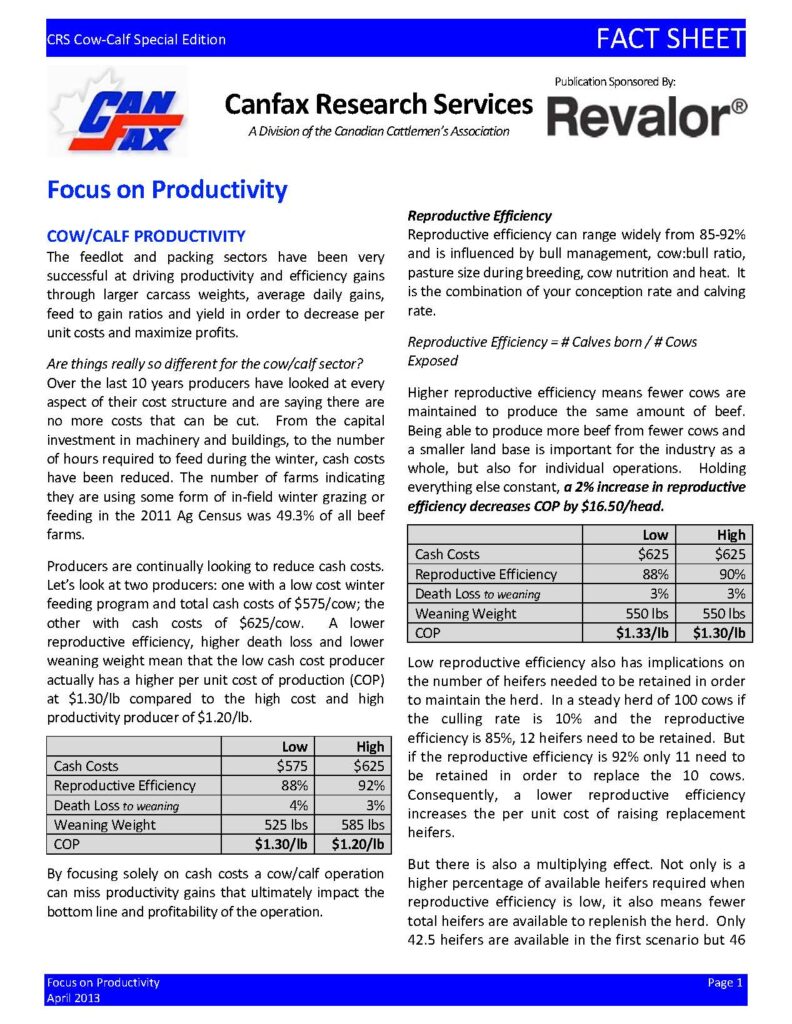 Are things really so different for the cow/calf sector?
Over the last 10 years producers have looked at every aspect of their cost structure and are saying there are no more costs that can be cut.
Let's look at two producers: one with a low cost winter feeding program and total cash costs of $575/cow; the other with cash costs of $625/cow. A lower reproductive efficiency, higher death loss and lower weaning weight mean that the low cash cost producer actually has a higher per unit cost of production (COP) at $1.30/lb compared to the high cost and high productivity producer of $1.20/lb.
By focusing solely on cash costs a cow/calf operation can miss productivity gains that ultimately impact the bottom line and profitability of the operation.
Visit canfax.ca/FactSheets for the full article and additional fact sheets.
The sharing or reprinting of BCRC Blog articles is welcome and encouraged. Please provide acknowledgement to the Beef Cattle Research Council and list the website address, www.BeefResearch.ca.
We welcome your questions, comments and suggestions. Contact us directly at info@beefresearch.ca or generate public discussion by posting your thoughts below.
Stay connected by following us on Twitter @BeefResearch, liking us on Facebook, and subscribing to our YouTube Channel.
Click here to subscribe and receive email notifications when new content is posted on the BCRC Blog.