Feeling Better About Castration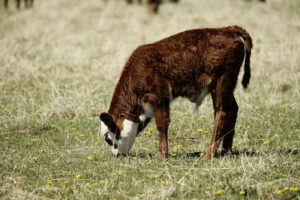 This article written by Dr. Reynold Bergen, BCRC Science Director, originally appeared in the March 2019 issue of Canadian Cattlemen magazine and is reprinted on the BCRC Blog with permission of the publisher.
When Canada's 2013 Code of Practice for the Care and Handling of Beef Cattle was being developed, some participants felt it should require pain control for castration at all ages, like the dairy code. The producers and researchers on the beef Code committee were confident that pain control was beneficial for feedlot bulls and dairy calves but were concerned that there was no research showing whether nursing beef calves and individually-housed dairy calves respond to castration or pain relief the same way.
In the end, the 2013 beef Code required that castration be performed by an experienced person using proper, clean, well-maintained equipment and accepted techniques. Producers are expected to seek guidance from their veterinarian on the optimum method and timing of castration, as well as the availability and advisability of pain control drugs for castrating beef cattle. Calves must be castrated as young as practically possible, and pain control is required when castrating bulls older than six months of age.
We've learned a lot since then. Last February, this column summarized a Beef Science Cluster study led by Dr. Karen Schwartzkopf-Genswein of AAFC Lethbridge that reported that signs of pain were minimal when week-old beef calves were castrated, more apparent in 2-month old calves, and even stronger in 4-month old calves. Other painful procedures are sometimes done together with castration, so this team has now examined whether pain medication helps 2-month old calves cope with the acute and chronic pain caused by branding and/or castration (Journal of Animal Science, doi: 10.1093/jas/sky245, Canadian Journal of Animal Science, dx.doi.org/10.1139/cjas-2018-0016).
What They Did:
Two-month old Angus-cross bull calves averaging 282lbs were divided into three groups of 24 head. One group was castrated with a Newberry knife. A second group was castrated and hot-iron branded. A third group was sham castrated (the scrotum was manipulated but not cut) and sham branded (using an unheated branding iron). Half the calves in each group were injected with a label dose of Metacam immediately before the procedures. The rest were injected with a placebo. Calves were handled in a tipping table fitted with instruments to measure the animal's activity. Acute pain was evaluated using intensive physiological and behavioral pain measurements collected the day before castration, during castration, the hours immediately after and the first week after castration. Chronic pain and scrotal swelling and healing were assessed using weekly physiological and behavioral measurements collected over six weeks, and weaning weights were compared.
What they Learned:
Acute pain was most obvious in calves that were both castrated and branded. Among other things, these calves struggled and vocalized the most in the tipping table, showed the most signs of discomfort in the hours afterward, and spent the least time eating, nursing and laying down during the first week. Calves that were castrated but not branded had intermediate reactions. As expected, calves that weren't castrated or branded showed the fewest pain-related responses. Metacam reduced the signs of acute pain. For instance, unmedicated calves were more restless and spent more time walking, while medicated steers walked the same amount as the control calves.
Chronic pain past the first week after castration didn't differ meaningfully between the three groups. Metacam is eliminated from the animal's body about four and a half days after injection, so it doesn't relieve chronic pain.
Scrotal swelling and healing were the same in castrated calves regardless of whether they had been branded or given Metacam or not.
Performance: Steers that were castrated and branded had the same weaning weights as calves that were only castrated, and steers weighed 15 pounds less than the control bulls at weaning. Calves given Metacam did not grow any faster or weigh any more than calves that didn't get Metacam.
What it Means:
Castration is painful and adding branding to the mix makes it more painful. Pain drugs can help 2-month old calves feel better and return to normal sooner. Other research from this team has demonstrated that calves castrated at a week of age show fewer signs of pain and heal more rapidly than calves castrated at two months of age.
Metacam was the only producer-friendly option with a pain control label claim when this research started in 2013. In 2014, 4 to 5% of Western Canadian cow-calf producers reported used pain control when castrating calves. Pain control is catching on now that producers have more options. A series of surveys conducted in 2017 shows that the use of pain control for castration has become more common in Atlantic Canada (10% of beef producers), Ontario (26%), and Western Canada (28%).
Adopting cost-effective and practical methods of reducing pain and stress will support consumer confidence in Canadian beef and contribute to Canada's National Beef Strategy's goal of improved beef demand. The Strategy explains why the Canadian Beef Cattle Check-Off increased from $1 to $2.50 per head in most provinces (with approximately 75 cents allocated to the Beef Cattle Research Council), and how it is being invested.
The Beef Research Cluster is funded by the Canadian Beef Cattle Check-Off and Agriculture and Agri-Food Canada with additional contributions from provincial beef industry groups and governments to advance research and technology transfer supporting the Canadian beef industry's vision to be recognized as a preferred supplier of healthy, high quality beef, cattle and genetics.
Click here to subscribe to the BCRC Blog and receive email notifications when new content is posted.
The sharing or reprinting of BCRC Blog articles is typically welcome and encouraged, however this article requires permission of the original publisher.

We welcome your questions, comments and suggestions. Contact us directly or generate public discussion by posting your thoughts below.