Details of 26 New Research Projects Funded by Canada's Beef Science Cluster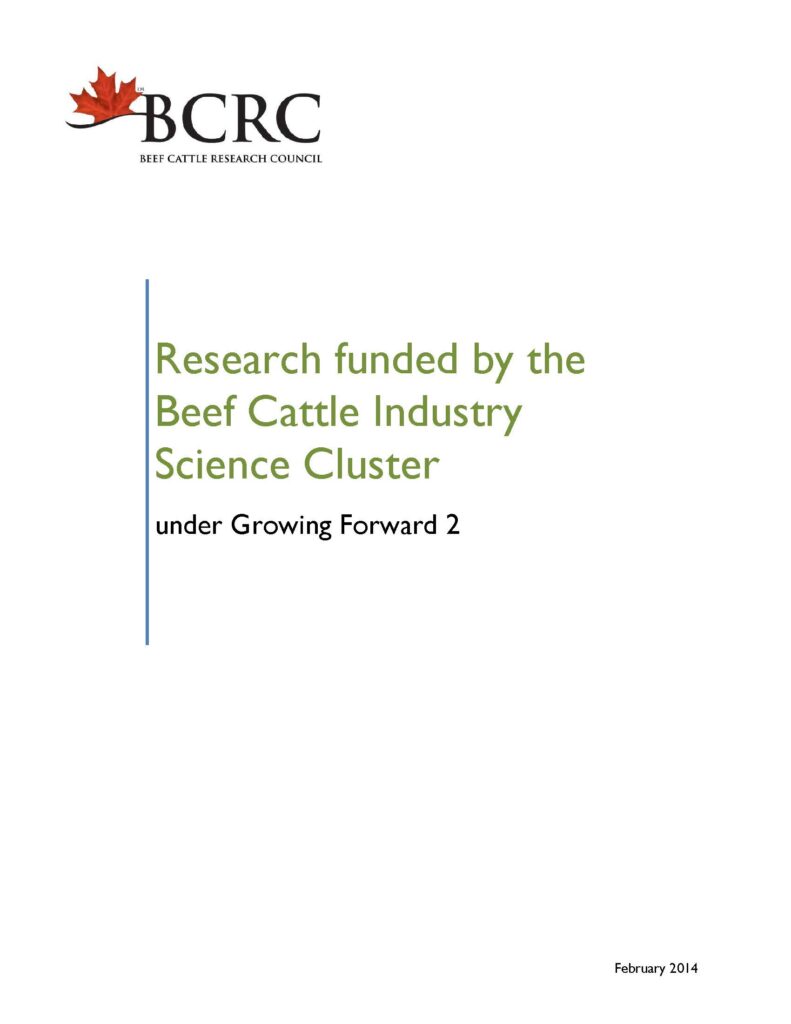 The first Beef Cattle Industry Science Cluster proved to be a very successful step towards improving the coordination of beef research funding in Canada while generating meaningful, applicable results. The Cluster enabled industry to successfully encourage the development of effective teams of researchers spanning multiple Agriculture and Agri-Food Canada (AAFC) and non-AAFC institutions across Canada.
In addition to strengthening research results and reducing duplication, this collaboration trained new research expertise to ensure that key research areas were maintained and strengthened. It also allowed improved technology transfer and knowledge dissemination efforts aimed at the successful development and adoption of key research results by Canada's beef industry.
The second Cluster builds on the success of the first. Joint industry and government commitments to the second Beef Science Cluster total $20 million, including $14 million in funding from AAFC and $5 million in funding from the research allocation of the National Check-off and provincial beef industry groups, in addition to investments by provincial governments. Funding has been directed to 26 research projects that will be completed by March 31, 2018.
Details on all of the second Cluster projects now available
We are pleased to announce more details on each of the second Cluster research projects. You can find a fact sheet on each of the projects now by navigating under the 'Research' tab, or download them all here: /files/pdf/beef_science_cluster_2_research_project_details.pdf [PDF | 1.8 MB]
Highlights of the second Cluster
Investments are focused on a portfolio of research that contributes ­to the industry's ability to meet the growing global demand for high quality, safe beef through responsible and profitable production practices that support a sustainable future for the Canadian beef cattle industry. Investments in the second Cluster will lead to several benefits.
To maintain or improve competitiveness in the production of beef cattle, research examines issues related to animal health, feed efficiency and feed grain and forage production. One research activity under the second Science Cluster will implement a longitudinal disease surveillance network for cow-calf operations in western Canada that could be readily accessed to provide timely and efficient answers to a variety of emerging research questions, such as biosecurity practices, economics of production limiting diseases, animal welfare practices, antibiotic use, and herd nutrition and management.
Investments in research are critical to support science-based policy, regulation and trade. Research within the second Cluster will study the effect of age of beef cattle on pain, as well as pain mitigation during routine management procedures. The study will provide the scientific knowledge required to make sound, practical management recommendations that address public concerns. This research is timely as public pressure mounts and the only related research currently available was conducted on dairy calves, which may not relate to beef cattle because of significant differences in genetics and typical production methods.
Results of beef research are necessary for science-based public education and advocacy to address public concerns in modern beef production, including environmental impact and animal welfare practices. One study will define how the environmental footprint of the Canadian beef industry has changed over the years, assess whether cattle production impacts ecosystem health, how pasturelands store carbon, and affect wetlands and habitat for species at risk as beef cattle convert low quality forages into high quality protein for human consumption. The report findings will make an important contribution to presenting a balanced perspective of the environmental footprint of beef production at regional, national, and international levels.
Programs that support the Canadian Beef Advantage value proposition that Canadian beef is a high quality, safe, responsibly produced product deemed superior over our competitors' by consumers is also a priority to the industry and government. Another National Beef Quality Audit will measure improvements made since the previous audit, as well as ongoing defect issues in order to identify areas that require production or research improvements to increase the value of the carcass. Another example is the continuation of work initiated under the first Cluster that will lead to improved education for packing plants on effective food safety procedures that are practical and cost-effective.
Research programs must be cognizant of the value of maintaining professional capacity to conduct long-term research. In the Canadian beef industry, research capacity related to forage and grassland productivity is of particular concern. Several research studies proposed under the second Cluster will focus on training and mentorship as a major part of the forage breeding, establishment or utilization program.
During the second Cluster, the Beef Cattle Research Council (BCRC) will also expand its technology transfer and knowledge dissemination program, which works to convert applied research into effective tools that drive industry competitiveness.
Click here to subscribe to the BCRC Blog and receive email notifications when new content is posted.
The sharing or reprinting of this BCRC Blog article is welcome and encouraged. Please provide acknowledgement to the Beef Cattle Research Council, list the website address, www.BeefResearch.ca, and let us know you chose to share the article by emailing us at info@beefresearch.ca.

We welcome your questions, comments and suggestions. Contact us directly or generate public discussion by posting your thoughts below.