It's Prime Time for Anthrax
With high temperatures and drought, cattle and bison are at a higher risk of anthrax. Two bison deaths northwest of North Battleford, Saskatchewan have recently been confirmed as caused by anthrax, and seven others are suspected. Producers are encouraged to keep a watchful eye and to refresh their memories on what to do when anthrax is suspected.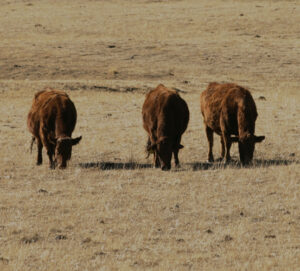 Anthrax is a highly contagious and infectious soil-borne disease caused by Bacillus anthracis, a relatively large spore-forming bacteria that can infect mammals, primarily herbivores. Beef cattle and bison are most likely to contract the disease because they graze low to the ground, often due to drought or management practices. Infectious spores are microscopic structures that are difficult to destroy and can survive for decades, especially in alkaline soils.
Spores brought to the surface by digging, heavy rains, soil erosion or dried up slough areas as examples, can easily be ingested by cattle while grazing close to the soil and cause infection. Anthrax in cattle has a very rapid onset, lasting only 2-3 hours, so the most common symptom is sudden death.
Contact your veterinarian immediately if you suspect anthrax on your farm. For any animal that dies suddenly and unexpectedly, do not move or open the carcass, and cover it with a tarp to help prevent scavenging and disease spread. When an animal dies of anthrax, the bacteria is present in most tissues of the body and if those tissues are exposed to oxygen, infectious spores begin to form.
Anthrax is a federally reportable disease and in some provinces it is a provincially notifiable disease. Veterinarians will collect blood samples to test for the anthrax bacteria. If anthrax is detected, it will be reported to the Canadian Food Inspection Agency (CFIA). The provincial agriculture department may also be notified. The CFIA no longer investigates, tests, quarantines, vaccinates, or assists with anthrax mortality disposal, but some provinces may pay for diagnostic anthrax tests and provide advice on proper disposal and control.
In rare cases, producers or veterinarians handling infected cattle may be infected through a cut or skin abrasion. Symptoms in humans generally appear within 7 days of exposure, and should be treated promptly by a physician.
Learn more about anthrax in beef cattle, including prevalence, prevention, vaccination, and carcass disposal, on our new Anthrax webpage.
Click here to subscribe to the BCRC Blog and receive email notifications when new content is posted.
The sharing or reprinting of BCRC Blog articles is welcome and encouraged. Please provide acknowledgement to the Beef Cattle Research Council, list the website address, www.BeefResearch.ca, and let us know you chose to share the article by emailing us at info@beefresearch.ca.

We welcome your questions, comments and suggestions. Contact us directly or generate public discussion by posting your thoughts below.