Ruminal Acidosis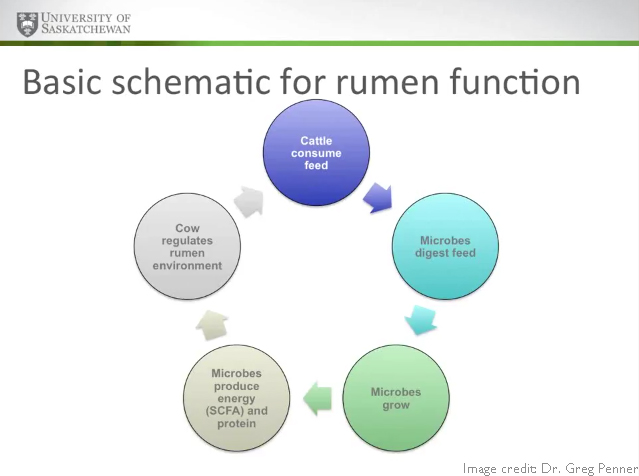 Cattle and other ruminants are able to digest grasses and other fibrous material because of the billions of bacteria, fungi and protozoa in the rumen. Each of these microbes has a preferred food source. For example, some prefer fibrous materials, whereas others prefer starch. Regardless of their preferred feed source, all bacteria beak down simple sugars to volatile fatty acids such as acetate, propionate, and butyrate. These volatile fatty acids are absorbed through the rumen wall into the bloodstream and provide an important energy source for cattle.
As their names suggest, volatile fatty acids are acidic under normal pH conditions in the rumen. As a result, rumen pH varies with volatile fatty acid concentrations in the rumen. Rumen pH drops as feed is digested rapidly, and rises when the rate of digestion slows. Normally, the production and utilization of volatile fatty acids is in balance. Ruminal acidosis occurs when acid is produced faster than it can be utilized.
Ruminal acidosis is a digestive disorder that is characterized by low rumen pH (more acidic than normal). Typically acidosis is said to be a pH below 5.8 (normal rumen pH is 6.5 – 7.0).
Cattle are at greatest risk for acidosis when consuming feed that is high in fermentable carbohydrates, which is most commonly associated with feedlot rations but can also happen on high quality pasture. Cattle that go off feed for an extended period of time are also at risk when they resume feed intake.
Click to continue reading… more information on the types, causes and prevention strategies of ruminal acidosis in beef cattle.

Click here to subscribe to the BCRC Blog and receive email notifications when new content is posted.
The sharing or reprinting of BCRC Blog articles is welcome and encouraged. Please provide acknowledgement to the Beef Cattle Research Council, list the website address, www.BeefResearch.ca, and let us know you chose to share the article by emailing us at info@beefresearch.ca.

We welcome your questions, comments and suggestions. Contact us directly or generate public discussion by posting your thoughts below.