AAFC's AgriInnovation Program Accepting Applications for Funding
Attention innovators:
The Enabling Commercialization and Adoption stream of funding under Agriculture and Agri-Food Canada's AgriInnovation Program is intended to help corporations and cooperatives to capitalize on innovative technologies, processes and services. The program began on April 1, 2013 and runs until March 31, 2018.
This stream helps support the demonstration, commercialization and adoption of agri-innovations. It is designed to enhance the competitiveness and sustainability of the Canadian agri-based sector.
The BCRC encourages eligible applicants to submit proposals related to the objectives in the National Beef Research Strategy.
Funding
The program may fund innovative agri-based products, technologies, processes or services.
The maximum funding available is up to $10 million per project.
Funding is repayable, non-interest bearing and may be used towards approved project costs that may include capital investments, such as construction and equipment
Eligibility
Eligible applicants are for-profit organizations (corporations and cooperatives). Eligible project proposals must clearly demonstrate:
Innovation
Financial capacity
Technical feasibility
Market readiness
Managerial capability
Deadline
Potential applicants are encouraged to submit their project summaries for the 2015-16 fiscal year well in advance of April 1, 2015 to commence the application and review process.
For more information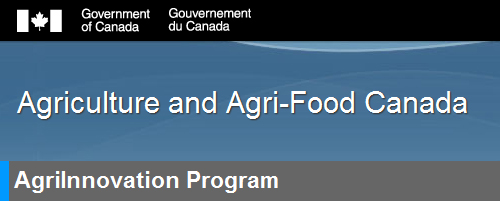 To learn more about the program and to receive a copy of the Applicant Guide, please visit www.agr.gc.ca/agriinnovation or contact them at aip-pai@agr.gc.ca or toll-free: 1-877-246-4682
If you are aware of any businesses that may be interested in this program please feel free to forward them this information.
Also note that the BCRC's next call for proposals will be announced here on the BCRC Blog first. If you are not already subscribed to receive notifications by email of new blog posts, click here to sign up.
Click here to subscribe to the BCRC Blog and receive email notifications when new content is posted.
The sharing or reprinting of this BCRC Blog article is welcome and encouraged. Please provide acknowledgement to the Beef Cattle Research Council, list the website address, www.BeefResearch.ca, and let us know you chose to share the article by emailing us at info@beefresearch.ca.

We welcome your questions, comments and suggestions. Contact us directly or generate public discussion by posting your thoughts below.