National Check-Off
The BCRC receives funding through the research allocation of the national check-off dollar, which is used to leverage additional industry and government funding including Agriculture and Agri-Food Canada's Beef Cattle Industry Science Cluster.

The national check-off is a mandatory levy of $1 per head collected on cattle sales throughout Canada to fund research and marketing activities on behalf of the entire industry. It is collected from cattle producers by provincial organizations of beef producers when cattle are marketed using existing collection systems involving auction markets, order buyers, brand inspectors and others who handle cattle sales. Funds are then transferred to the Beef Cattle Research, Market Development and Promotion Agency (the Agency). More on producer check-offs.
The national check-off generates nearly $7 million annually and is a critical source of revenue to fund initiatives that will advance the industry, build strong markets for Canadian cattle and beef, and reduce cost of production.
The goal of the national check-off is twofold:
to find better and more efficient methods of producing high quality beef and beef cattle
to increase sales of domestic and export beef
The research allocation of the national check-off is managed by the BCRC and is used to identify and fund research and development of priority for the Canadian beef cattle industry.
The marketing allocation is managed by Canada Beef to fund their marketing work domestically and in the U.S., as well as oversees.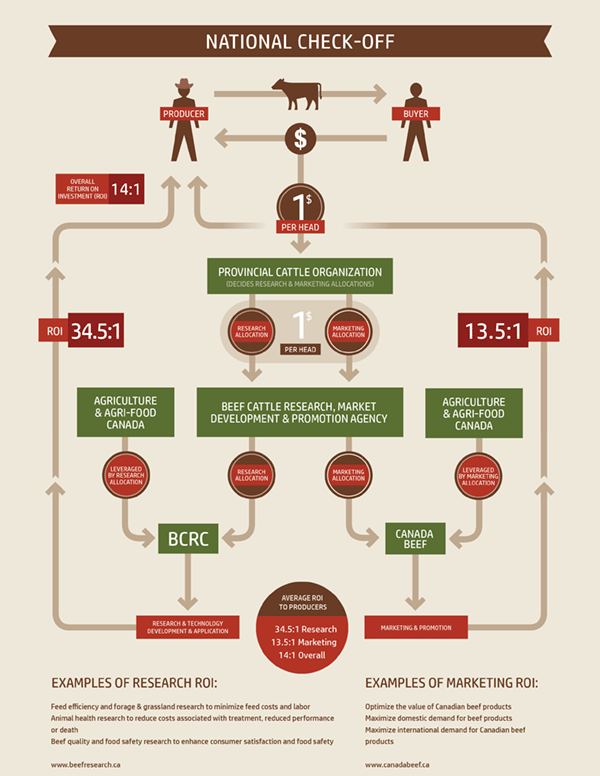 The national check-off solely funds research and marketing activities and does not provide any funding to the Canadian Cattlemen's Association (CCA) for policy and advocacy activities. The CCA is funded separately through provincial organizations, which collect an unrelated check-off to fund lobbying efforts.
At the present time, Canada's beef cattle check-off does not apply to live animals exported from Canada. As of January 1, 2014, all imports of beef and beef products into Canada are subject to the levy of $1 per head or carcass equivalent, estimated to be worth $600,000 to $900,000 annually.
Investment in Research
While the entire national check-off dollar is collected then transferred from provincial organizations to the marketing and research bodies, the provincial organizations determine the allocation to each.
On average nationally, the BCRC receives 18 cents of every national check-off dollar.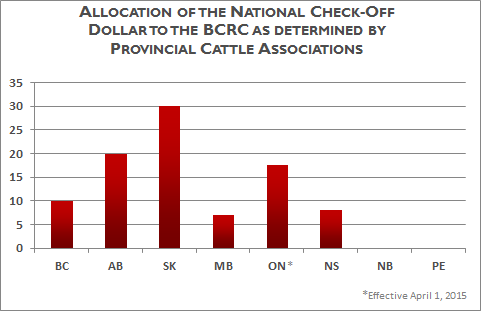 Return on Investment
An independent study evaluating economic benefits from the national check-off shows that Canadian beef cattle producers' funding of research and marketing activities has delivered strong return on investment. Compared to other commodities, Canada's beef cattle check-off falls squarely within the range of values reported for other regions and commodities, and is higher in some cases.
The study found that returns on investments in research by producers are 34.5:1. The extremely high return to research was mainly attributed to research being historically underfunded, and the fact that applied research tools are directly available to producers.