Print Page
Stand Mixtures
Establishing new pastures can be expensive and producers often prioritize stand life over yield. Seeding complex mixtures of grasses and legumes that maintain highly diverse botanical composition in pastures can contribute to increased persistence, yield stability and improved productivity. Yields benefit from including highly productive as well as drought-tolerant species. While some species will not persist beyond the first three or four years, other species in the mix can fill in the gap to maintain overall yields, to a degree.
On this page:
Introduction
Schellenberg (2013)1 assessed the productivity and crude protein content of forage stands to determine if species show complementarity in Swift Current, Saskatchewan. The fast growing and highly competitive species dominated biomass production in the early establishment phase. Including less productive species in the forage sward had minimal impact on pasture productivity or nutritional value under good growing conditions. However, less productive species should be included in pasture mixes when they bring beneficial traits (i.e. increasing nitrogen availability, drought resistance) to the forage stand that provide 'insurance' for less optimal years.
Forage Selection
There is a wide range of grasses and legumes available. Each species has its own particular plant and seed characteristics that make it more or less suitable for a producer's purpose. Thus, selecting or formulating a seed mix is as critical as selecting the best variety.
Many factors have to be taken into account when making a forage selection. Stand mixtures should be appropriate for the soil, acclimatized to the region, able to withstand management intentions and pressures (haying/grazing). It is necessary to match forage species to the characteristics of the soil, considering characteristics such as drainage, fertility, and pH. Soil maps and information that describe the limitations of a particular soil are helpful, especially with land the producer has not previously farmed.
Management Practices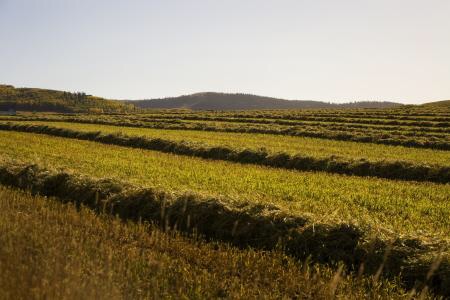 How the forage will be managed (for haying or grazing) and how intensively will also influence the stand mixture decision.2 McCartney et al. (2004)3 evaluated how eight tame grass species4 respond to different management systems in northeast Saskatchewan. Meadow bromegrass showed the most uniform seasonal distribution of yield among the high-yielding grasses under all management systems, offering the most late season yield. It also had the lowest protein concentrations throughout the growing season, making it the most suitable for grazing cattle as their protein requirements are low. Crested wheatgrass had significantly more first cut production than all other grasses, making it ideal for early spring grazing allowing producers to stop expensive winter feeding. The high yield of green needlegrass under multiple harvests suggests good potential for pasture use.
Yousef Papadopoulos (2013)5 conducted a study on forage seed mixtures for different regions of Canada in order to determine the best combination of a single grass species with one legume species (white clover, birdsfoot trefoil, or grazing-type alfalfa), and to compare four grass mixtures combined with two forage legumes (trefoil and grazing-type alfalfa) that form a set of 12 distinct mixtures. Results from the first two years indicate that mixture selection can be used to optimize the energy:protein ratio with forage yield and animal gain. However, results to date have not identified complex mixtures that simultaneously provide high yield, nutritive value, and animal performance. This trial will be continued for five more years to gather additional yield, nutrient content and grazing performance data as the pasture compositions stabilize.
Mixing Grasses and Legumes
A mixture of a grass and an inoculated legume can be advantageous over a pure grass or legume stand for the following reasons:
Eliminates the need for nitrogen (N) fertilizer on pure grass stands because the legume in the mixture will provide nitrogen for grass growth.
Lengthens the life of the pasture or hayland because the grass will remain after the legume stand is reduced. If desired, a legume can be reintroduced by pasture renovation.
Reduces the problem of legumes "heaving", in which legumes are raised from the soil surface by freeze-thaw action in the late winter and early spring, resulting in plant damage. The grasses hold the legume plants in place.
Reduces soil erosion on steep slopes. Grasses have a more massive root system and are better for soil conservation purposes than pure legume stands.
Improves livestock performance. A grass-legume mixture can improve animal gain and cattle breeding performance over a pure grass stand. A grass mixture can also reduce animal performance problems associated with bloating on alfalfa.
To get N fixation from a legume, the legume seed must be inoculated. Inoculants are currently very hard to source, which may be discouraging re-seeding of alfalfa-grass mix hayfields at historic levels.
Pure Grass and Legume Stands
A pure grass stand or a pure legume stand can be advantageous over a grass-legume mixture for the following reasons:
Eases the management associated with trying to keep all species in a mixture competitive.
Increases the number of herbicides that can be used for weed control. Weed control options are more limited with a grass-legume mixture.
Forage quality. A pure legume stand is usually higher in forage quality than a pure grass stand or a grass-legume mixture.
Feedback
Feedback and questions on the content of this page are welcome. Please e-mail us.
This topic was last revised on February 29, 2016 at 9:02 AM.