Print Page
Rangeland and Riparian Health
Rangeland, or range, can perform a number of valuable functions for both the livestock industry as well the general public. Rangeland is defined as land that supports indigenous or introduced vegetation that is either grazed or has the potential to be grazed and is managed as a natural ecosystem. By evaluating its health, cattle producers can manage their grazing lands for optimal, sustainable forage production.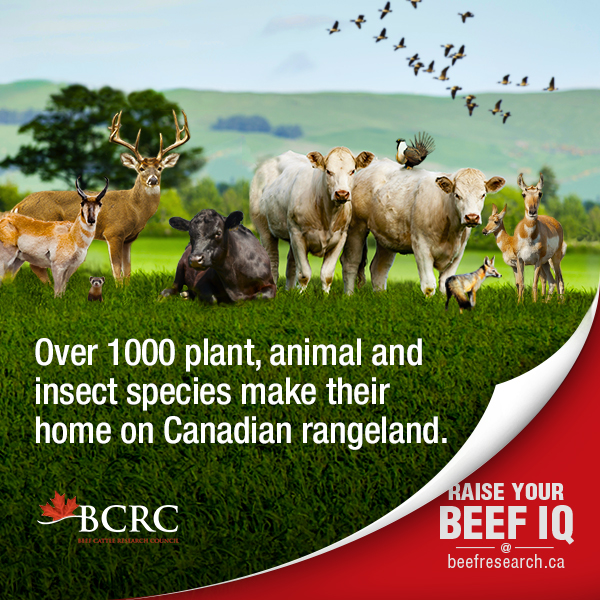 The benefits of maintaining healthy rangeland for livestock producers include:
Lower feed costs
Renewable and reliable source of forage production
Stability of forage production during drought
Greater flexibility and efficiency for alternate grazing seasons (fall or winter)
Lower maintenance costs like weed control
Does not require the input of inorganic fertilizers and other soil amendments and additives
Reduced concern for noxious weeds
Rangeland Health Assessments
The following video defines rangelands, covers the principles of range management and highlights some of the assessment tools that are available.

Next, we see a rangeland health assessment performed using five key questions on a lightly grazed site in Southern Alberta, and see how it compares to heavily and very heavily grazed range.

Riparian Zone Assessments
The area between land and a river or stream is called a riparian zone. When riparian zones are healthy, they serve important roles in soil conservation, habitat biodiversity, and aquatic ecosystems.
The following video describes what to look for to assess the health of riparian zones on your land, and explains where to find additional resources to help with riparian assessments.

The next video describes the top strategies to improve and maintain riparian health, and offers ideas on where producers can find financial support for the costs associated with making changes like adding riparian fencing and off-site watering systems.

Feedback
Feedback and questions on the content of this page are welcome. Please e-mail us at info [at] beefresearch [dot] ca
This topic was last revised on March 5, 2014 at 9:03 AM.