The practice of extended winter grazing is quickly gaining popularity in Western Canada as new research informs management practices with optimum results. Extended grazing methods, including swath, stockpiled and bale grazing, have considerable economic benefits over traditional winter feeding systems. Well managed systems reduce or eliminate labour, feed and manure handling costs during the winter. The ability to implement a winter grazing system will depend on snow conditions and competition with ungulates in the area.
On this page:
Swath Grazing
Swath grazing is the practice of allowing livestock to graze annual cereals in the swath during the winter months.
| | |
| --- | --- |
| Research indicates that swath grazing can reduce total daily feeding cost per cow by 41 to 48%. This is based on a 78% reduction in yardage costs and a 25% reduction in feed costs. Daily feed costs range from $0.61 to $1.80 per cow, largely due to variability in the number of grazing days per acre. | Swath grazing can reduce total daily feeding cost per cow by 41 to 48%, compared to drylot feeding. |
Annual crops
| | |
| --- | --- |
| While typically more costly than perennial pastures, the use of annual crops for swath grazing is still more economical than traditional winter feeding systems. Annuals such as late-maturing barley or oat crops are typically used because they yield the most forage. | The typical swath or windrow is 4' wide and 2' thick. Swathing is timed for the soft dough stage in mid-September or later just before the killing frost. |
Studies have shown that corn and triticale are also good options for winter swath grazing. Corn and triticale use more of the growing season than barley, can be seeded sooner, have higher yields than barley, and maintain higher nutrient value than oats.
Seeding should be timed to ensure that small grains are harvested or swathed just before the killing frost, between late milk and hard dough stages to maximize forage yield and quality. The earlier the annual is seeded, the higher the forage yield. Barley and oats are typically seeded in late May to early June. Triticale and corn can be seeded earlier.
Swath grazing management
Swath grazing usually begins in November, and can continue until a couple of weeks before calving, i.e.: April or May.

Cattle should be allocated enough swath area so that they clean up the area in about 2 to 3 days.
An electric fence can be used to contain the area. Adequate shelter must be provided and an alternative water source is necessary in case the cows are unable to use snow for their water requirements. It is also advised to provide a bedded area for the cows. Cows will rest on the swaths, but providing bedding will reduce residual wastage in the swaths do to cow dung.
After calving, cows and newborn calves can return to swath grazing fields if the area is dry. Cows with nursing calves will need extra energy in the form of grain or hay to meet their nutritional requirements.
Grazing annuals in the summer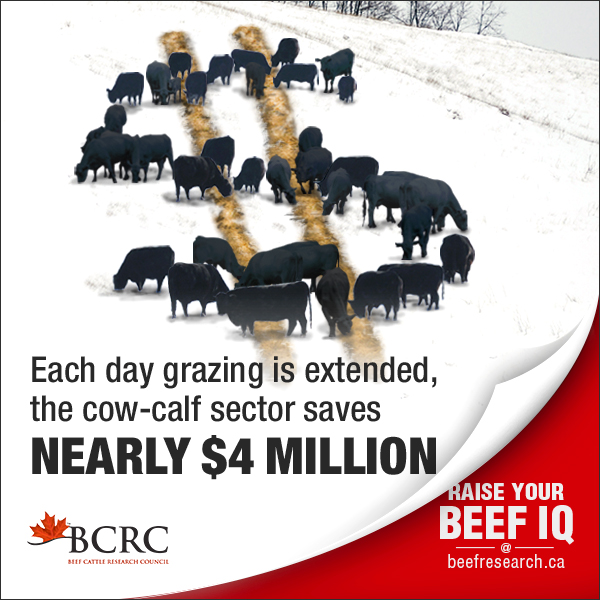 In areas where traditional summer drought reduces the regrowth on perennial pasture, the annual cereal can be grazed during the summer period as a means of taking grazing pressure off of the perennial pastures.
A preliminary AAFC trial showed that swath grazing perennial cereals during the critical late summer / early fall period allowed the grass-alfalfa pasture to rest, and increased the carrying capacity of the overall grazing system without any additional input costs.
Sections should be grazed down to the ground before the fence is moved every few days. Cattle should be trained to an electric fence prior to grazing.
When well done, a rotational grazing system will have:
increase forage production
increase utilization from each acre
prevent the loss of higher production forage species
will be a highly productive pasture for years
Stockpile Grazing
| | |
| --- | --- |
| Stockpile grazing, or saving the regrowth on certain hay or pasture fields for grazing in the fall and early winter, is a low-cost source of forage for livestock after forage growth has stopped. | Perennial pastures that include 40-50% alfalfa are typically the most economical. |
Well managed perennial pastures are typically more economical than using annuals. Meadow brome pastures with high levels of alfalfa are optimal for grazing. However these pastures should be grazed in the fall before the alfalfa leaves fall off the plants.
Research has found that perennial pastures that include 40-50% alfalfa do not require additional nitrogen fertilizer. Unfortunately, alfalfa drops below the 40% threshold level after several years of grazing, increasing the need for fertilisers or pasture renovation
Yield vs. Quality
Determining the summer resting date, the date in the summer when the animals are removed from the pasture so that it can re-grow and be stockpiled for use in the fall and winter, is the most important management factor. The yield and quality of forages will be influenced by the amount of rest the pasture is given. However, the longer the stockpile is allowed to regrow and mature, the more the quality is reduced. Mid July is a good time to start the rest period on meadow brome pastures.
Stockpile grazing management
Cattle should be given access to stockpiled forages before snow cover, but if forages are sufficient, cattle will graze through 15 cm (6 inches) or more of snow.
Strip grazing using an electric fence is recommended when snow cover is present. Livestock should be limited to a two to threedays of forage at one time so the use of temporary fencing is recommended. In all grazing situations it is important to check the cows condition every two to three days
Bale Grazing
Bale grazing is the practice of allowing livestock to graze bales on pastures and hayfields. When bales are grazed where they are dropped from the baler, the need to stack and move the bales in the winter is eliminated.

With proper management, environmental risk can be reduced. By rotating fencing, each area will have low manure concentrations that can improve future forage growth and reduce manure hauling costs. Bale waste will also be spread more evenly for uniform distribution of the nutrients. Residual feed can be a benefit as it conserves soil moisture.

Bale grazing can have numerous economic and environmental benefits, but proper placement and management is required. A cost analysis will help to determine if bale grazing is right for your operation's extended grazing program.
Bale grazing management
Using electric fencing, cattle can be rotated to new sets of bales every two to five days. Longer periods are likely to increase feed waste.
The best option for bale placement is on seeded perennial fields. If a relatively thick layer of residual material is left behind, rhizomatous grass species (smooth bromegrass, quackgrass , Kentucky bluegrass), have a greater chance of survival. Bunchgrass species (crested wheatgrass, meadow bromegrass, Russian wild ryegrass) have a lower chance of surviving. Bale grazing on native prairie sites is generally not recommended because native grass species do not respond as well to elevated soil nutrient levels and tame species may invade.
Bales should not be placed in drainage areas, because of manure and urine concentrations around the bales.
Other Extended Grazing Systems
Chaff bunching, in order to allow cattle to graze post-harvest residue, is another economical option for winter feeding, but is not very common. Its lack of popularity may be due to the fact that most grain fields are not fenced, and partly because modern combines are increasingly more efficient at capturing all of the grain.
Feed Testing
Feed testing is an important step when planning extended grazing systems.
Water Source
It is possible to use snow as the only water source for cattle under certain conditions; producers need to check snow conditions in their pastures regularly. Non-lactating beef cattle can meet their water requirements by consuming snow as long as the snow is of proper quality and sufficient quantity. The snow must be loose, non-crusted and deep enough to cover the ground. Changing weather conditions can cause snow to disappear and the quality of snow as a water source will deteriorate due to blowing wind, thawing, refreezing and crusting. If in doubt, provide cattle access to fresh water. Click here to learn more: http://www.beefresearch.ca/blog/snow-as-water-source/
Current and Future Research
Several questions remain about how best to manage and fit swath grazing into a system with optimum results. One Beef Science Cluster project will optimize seeding dates for different annual cereal crop to maximize swathed crop yield and to identify least cost crops or crop combinations.
Preliminary research indicates that new varieties of spring triticale (e.g. Bunker and Tyndal) maintain high forage yield with late planting and may result in swath-grazed carrying capacities that are at least 40% greater than barley. However, producer experiences with triticale have been mixed and animal acceptability must be tested in controlled swath grazing experiments. Corn utilizes the full growing season, and has been winter-grazed, but little information is available on grazing losses or economic efficiency.
Feedback
Feedback and questions on the content of this page are welcome. Please e-mail us at info [at] beefresearch [dot] ca.
Acknowledgments
Thanks to Duane McCartney, retired Agriculture and Agri-Food Canada research scientist, for contributing his time and expertise in writing this page.
This topic was last revised on April 3, 2017 at 11:04 AM.