Print Page
Breeding Forage Varieties
Pasture and hay/silage of perennial and annual forage crops provide the majority of feed for Canadian beef cattle. It is important that cattle producers have access to high yielding, high quality, and well adapted varieties to improve the economics of production. Canadian plant breeding programs have developed many improved varieties of a number of grass and legume species.
Over the long term, improving forage productivity is crucial for future competitiveness of the cattle industry. While it may be more profitable for a producer to obtain hay or pasture from another source in the short term (buy land or purchase hay), reducing the per unit COP is required (through improvements in yield and quality). Current competition for land from other crops is putting further pressure on the forage industry to increase margins or be converted into a more profitable commodity. This makes forage breeding a key piece to the long term health of the beef industry.
Sections
Long Term Investment
It can take up to ten years to develop a market ready variety. Continual investment in breeding programs can provide a rich source of new varieties suited to the local environment with incremental improvements in yield, longevity, disease and drought resistance. This requires
an ongoing investment in research capacity (both human capital and infrastructure) with varieties developed for the different Canadian soils and climate conditions,
collaboration among regional breeding programs to identify varieties that perform well in other environments, and
a regulatory system that supports registration and commercialization of new varieties.
Maintenance of a regional testing system with at least major regions represented is important to support adoption as it provides producers with an indication of how varieties will perform in their area. Collaboration by breeders to test each other's varieties is a part of this, but there are more regions than breeders currently in Canada. Therefore, additional testing sights are required.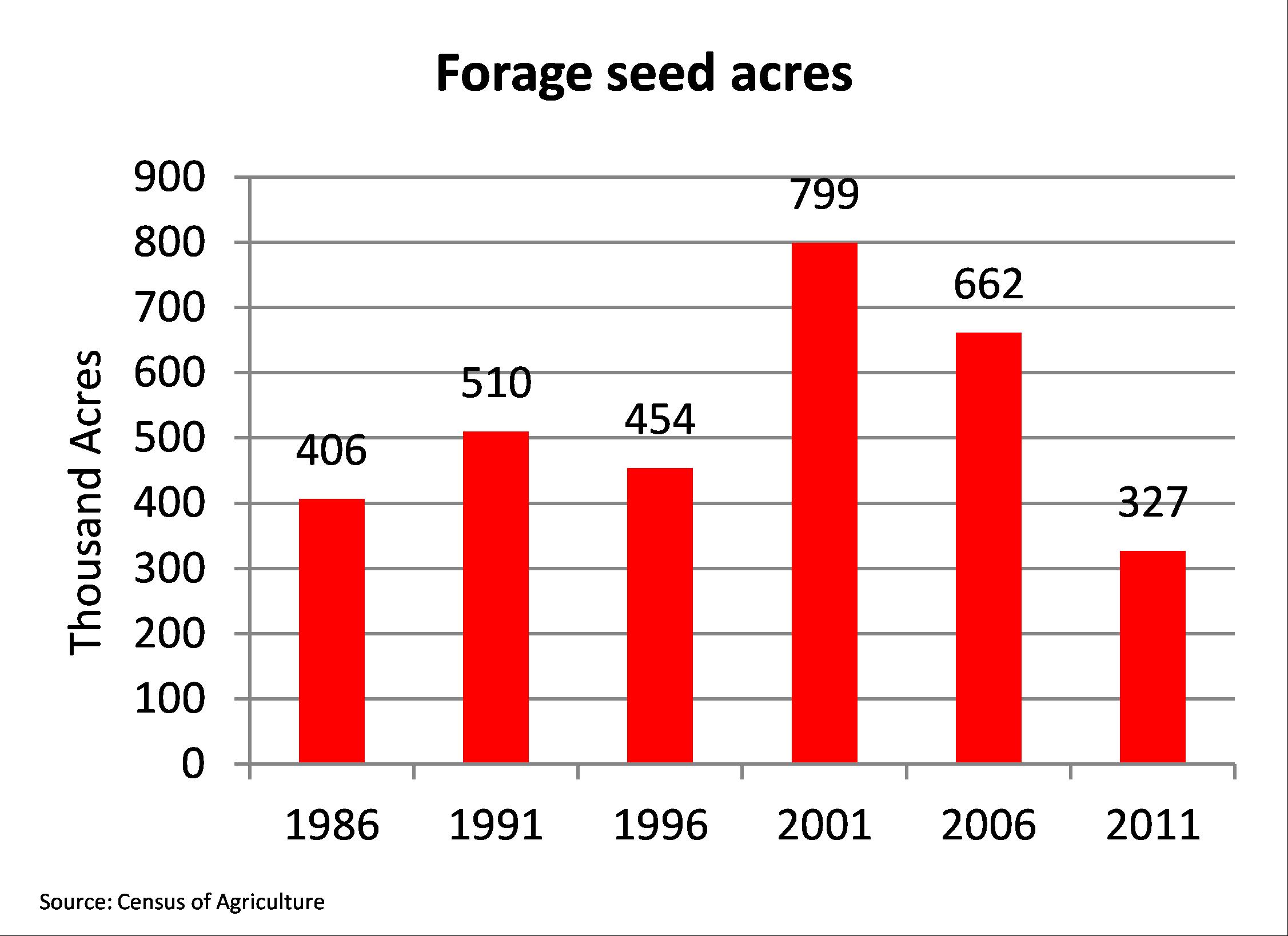 Having a new variety available is only step one. Seed must also be propagated for commercial use. This can be a bottleneck in the system if there are not enough registered growers willing to do this, in which case the investment in breeding never results in varieties that are available to producers. Forage seed acres have declined from close to 800,000 acres in 2001 to 326,500 acres in 2011. This is below the 1986-1996 average of 457,000 acres. While historically forage seed acres have represented 3-4% of total forage acres, they are now under 2%.
Finally, new forage varieties must be adopted by industry. This is a question of tech transfer and a variety gaining a reputation of performing well under typical production systems. Connecting breeding programs with forage specialists to provide seed recommendations can provide breeders with valuable feedback on what characteristics producers are looking for in their region, and what the most popular variety is.
The return on this investment takes equally long when longer periods between re-seeding are considered. Adoption of new varieties in some regions can take decades.
LOCATION
INSTITUTION
MAJOR FORAGES IN
PROGRAM
Lethbridge, AB
Agriculture and Agri-Food Canada
Perennial legumes and grasses
Saskatoon, SK
University of Saskatchewan/Agriculture and Agri-Food Canada
Perennial and annual grasses
Swift Current, SK
Agriculture and Agri-Food
Native species
Vegreville, AB
Alberta Research Council
Native species
Ste-Foy, PQ
Agriculture and Agri-Food
Perennial legumes and grasses
Kentville, NS
Agriculture and Agri-Food
Perennial legumes and grasses
Table 1. Present forage breeding programs in Canada (2012).
There are no active private forage breeding programs in Canada; however, there are several private programs in the U.S., with the main focus on alfalfa. A number of Canadian seed companies test U.S. developed varieties and sign agreements to market these in Canada. A number of the alfalfa varieties being used in Canada were developed in the U.S.
Establishment of New Forage Varieties
Forage crop breeders usually start a variety development program by establishing a spaced-plant nursery consisting of varieties and introductions available for the species. No evaluation is done in the year of establishment of the nursery, but plants are usually evaluated for two years following the year of establishment.
Evaluation
Depending on the goals of the breeding program, plants may be evaluated for characteristics like
vigor
dry matter yield
freedom from disease
nutritive value
seed yield, and
resistance to winter damage
When evaluation is completed, superior plants (usually from 10 to 30) are selected and interpollinated, either in the field or greenhouse, to produce seed. This seed is used for progeny or evaluation trials that are seeded at the breeder's research farm. Some seed is also used to establish new nurseries which are evaluated as described above, so that lines in the breeding program are constantly undergoing recurrent selection.
Regional testing
Seed of lines that show promise is submitted for regional testing. Canada has four forage testing networks; the Atlantic provinces, Québec, Ontario and the prairie provinces. The system in the prairies is known as the Western Forage Testing System (WFTest), which presently has eleven testing sites in Alberta, Saskatchewan and Manitoba.
New lines are evaluated for dry matter yield and persistence over a three year period. Lines which are superior to standard check varieties are then recommended by a provincial crops committee for registration by the Variety Registration Office of the Canadian Food Inspection Agency.
From initial establishment of a nursery until completion of testing and recommendation for registration takes from 10-15 years. Variety development in perennial forage crops takes longer than for most annual crops because it requires a year to establish a trial, seed increase, or nursery during which time no evaluation is done, nor seed harvested.
Production and Marketing of Seed
Public institutions produce new forage varieties but they are not in the business of seed production and marketing. When a new variety is recommended for registration, public forage breeding institutions put out a call for proposals to produce and market the line to members of the Canadian seed industry. The variety is then licensed to a private company, or group of companies. The breeding institution maintains the basic or breeder seed of the variety, while the company looks after production of foundation and certified seed and markets certified seed through its retail outlets.
The production of certified seed from breeder seed takes at least four years. The time between when the breeder plants a breeding nursery until seed of a new variety is available to producers ranges from about 15-20 years. Because breeders have lines in all different stages of development in their programs, there are fairly regular releases of new varieties.
Goals of Canadian Forage Breeding Programs
Higher forage yield has been one of the main goals of almost all Canadian tame forage breeding programs.
Improved forage nutritive value has also been a goal of certain programs, although it has been difficult to make progress in this area due to the strong relationship between nutritive value and plant maturity. In addition, selection for higher protein or lower fiber leads to reduced forage yield.
Forage legumes
For a number of forage legumes, persistence has been a key improvement goal. Legumes are generally more susceptible to winter killing and diseases, so winter hardiness and disease resistance have been important selection criteria to improve persistence. Some alfalfa breeding programs have focused on the reduction or elimination of bloat and the increase of rumen un-degradable protein. Other selection has been done for tolerance to stress conditions, such as drought and salinity.
Grasses
Goals of forage grass breeding programs have been varied, reflecting the large number of different grass species used for forage in Canada. Various programs have focused on:
tolerance to stress conditions
improved seedling vigor for easier establishment
improved production per unit of nitrogen, and
faster regrowth after cutting or grazing
Crosses have been made between different forage species to expand the area of adaptation and combine the good forage characteristics of two species in one. Although most grass species are winter hardy and persistent, some otherwise good forage species are marginally adapted to our cool climate, so winter hardiness is an important breeding goal for these species.
Native forage
Native forages are often used for conservation plantings and reclamation of disturbed land. Wide genetic diversity is often important for these types of plantings, so breeders of native grasses have not selected as intensively in their programs as for tame forage species. Seed production and broad adaptation have been important goals.
Success of Canadian Forage Breeding programs
Many improved varieties have been released from Canadian forage breeding programs over the years. Examples of new varieties/types that had a significant impact include:
Sainfoin
Sainfoin is a high quality, non-bloating forage legume however, without careful grazing management, it can disappear from a stand within a few years. Condensed tannins in the plant are very effective at preventing bloat in ruminants. Breeding efforts are focused on sainfoin that regrows more rapidly after grazing, has improved yield, and persists longer in mixtures with alfalfa. Recent new releases include AAC Mountainview and AAC Glenview with research ongoing to develop additional varieties.
Meadow bromegrass
Meadow bromegrass was released in Canada in 1980. Fleet and Paddock, the first Canadian developed varieties, released by AAFC Saskatoon in 1987, had higher forage and seed yield compared to traditional varieties. This led to meadow bromegrass becoming the leading pasture grass in western Canada, highly valued for its rapid regrowth throughout the growing season.
Winter hardy alfalfa
Agriculture and Agri-Food Canada (AAFC) Ste-Foy has a team of scientists working on the winter hardiness of alfalfa. This has led to the release of many persistent alfalfa varieties over the last 25 years. Some, such as the varieties Apica and Caribou, have been well adapted and grown across Canada.
Red Clover
Red clover is an important forage species on wetter, more acid soils found in eastern Canada. Red clover is susceptible to many diseases, which makes it short-lived. The breeding program at AAFC Kentville has released a number of new red clover varieties that are more persistent than older varieties.
Cicer milkvetch
Cicer milkvetch is a forage legume that does not cause bloat in grazing animals, but it's use has been limited by the difficulty of establishing good stands. Varieties released recently by AAFC Lethbridge, Oxley 2 and Veldt, have improved seedling vigor which makes stand establishment easier.
Current Research
Activities presently underway in Canadian breeding programs are expected to lead to the following new varieties within the next ten years:
Grasses with higher biomass production for energy purposes
Sainfoin with faster regrowth for use in mixtures with alfalfa
Timothy with higher production per unit of nitrogen
An alfalfa with condensed tannins in its leaves which would be bloat-safe
New dual purpose (hay/pasture) hybrid bromegrasses
Availability of seed of an increasing number of native species
Feedback
Feedback and questions on the content of this page are welcome. Please e-mail us at info [at] beefresearch [dot] ca.
Acknowledgments
Thanks to
Dr. Bruce Coulman, University of Saskatchewan professor and researcher focused on breeding, genetics and management of perennial forage crops
Dr. Jock Buchanan-Smith, retired University of Guelph professor and researcher of beef cattle nutrition and management
for contributing their time and expertise during the development of this page.
This topic was last revised on July 10, 2019 at 10:50 AM.