Print Page
Using Late Summer Swath to Rest Grazing Perennial Pastures
| | |
| --- | --- |
| Project Code: | FRG.09.10 |
| Completed: | In Progress. |
Project Title:
Effect of resting perennial pastures during the critical acclimation period on beef cattle performance, alfalfa persistence, pasture productivity and water use efficiency
Researchers:
Dr. Hushton Block blockh@agr.gc.ca
Dr. Martin Entz, Dr. Mohammad Khakbazan and Dr. Vern Baron
Background: A 10-year study conducted by AAFC researchers showed that pastures that include 40-50% alfalfa do not require additional nitrogen fertiliser. Unfortunately, alfalfa drops below the 40% threshold level after several years of grazing, increasing the need for fertilisers or pasture renovation.
The loss of alfalfa from perennial pastures is partly due to over-use during the grazing season. Hay producers do not usually cut their alfalfa fields when the plants are preparing for winter dormancy (beginning of August to the first killing frost). This helps alfalfa withstand future stresses such as low temperature, future defoliation and disease, and enhances alfalfa persistence into subsequent growing seasons. However, cattle producers will often continue to graze alfalfa-containing perennial pastures during this time.
Changing the timing of swath grazing may help to maintain alfalfa in perennial pastures. Many beef producers seed annual cereals in mid-June and swath them in late August or early September before the grain ripens. A preliminary AAFC trial showed that swath grazing perennial cereals during the critical late summer / early fall period allowed the grass-alfalfa pasture to rest, and increased in the carrying capacity of the overall grazing system without any additional input costs. Extending the trial for more growing seasons will help to fully evaluate the potential of this novel grazing system under a range of growing season conditions.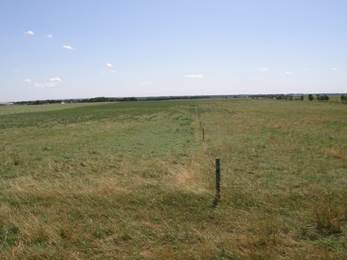 Objective: These researchers will rest perennial alfalfa-grass pastures by grazing oat or barley swaths during the critical late-season period. In addition to animal performance, overall stand health, plant growth, root growth, water use efficiency, and alfalfa persistence will be monitored over several years. Profitability and energy use efficiency will be analyzed to indicate whether this practice will reduce production costs.To determine whether resting perennial pastures during the critical late-season period benefits overall stand health, plant growth, root growth, water use efficiency, alfalfa persistence, animal performance, system energy balance and economic benefits and costs.
Implications: Improved long term pasture productivity will help to reduce cow-calf production costs.
View Fact Sheet PDF