Print Page
Improving the barrier function of the gut to prevent disease
| | |
| --- | --- |
| Project Code: | ANH.33.13 |
| Completed: | In Progress. Results expected in March 2016. |
Project Title:
Improving the barrier function of the gut: an approach to minimize production limiting diseases
Researchers:
Greg Penner, Ph.D. greg.penner@usask.ca
Greg Penner, Ph.D., University of Saskatchewan, Steve Hendrick, DVSc., John McKinnon, Ph.D. and John Campbell, DVSc. (University of Saskatchewan)
Background The cells lining the digestive tract have two seemingly contradictory functions. They need to absorb nutrients while also acting as a barrier to prevent disease causing organisms from entering the bloodstream.
Nutrient absorption has not been studied in great detail in ruminants, and barrier function even less so. The interplay between these two functions also raises the possibility that nutritional disruptions may also affect how well the gut can act as a barrier to pathogens.
Increased knowledge will help to identify opportunities to improve feed conversion efficiency, as well as a better understanding of diseases that are believed to result from pathogen movement across the digestive system (including laminitis, acute interstitial pneumonia, and general systemic inflammation).
Objectives To better understand the interplay between the absorptive and barrier functions of the ruminant digestive tract
What they will do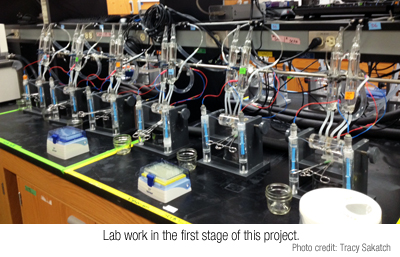 A series of three intensive studies will be conducted to determine which regions of the gastro-intestinal tract pose the greatest risk for absorption of antigens and pathogens, establish which regions are most susceptible to compromised barrier function following feed restriction, determine the time line of recovery for barrier function after a nutritional challenge, and to explore treatments that may hasten the recovery of barrier function following feed restriction.
Implications This study will improve our understanding of the gut's dual role in absorbing nutrients while excluding pathogens. This knowledge will potentially identify opportunities to simultaneously improve feed efficiency, animal health and welfare, and industry competitiveness.
View Fact Sheet PDF